This is an archived article and the information in the article may be outdated. Please look at the time stamp on the story to see when it was last updated.
KANSAS CITY, Mo. -- As federal investigators piece together a possible Texas terrorist attack, one of the suspect's trails traces back to the Kansas City metro area.
Authorities have identified the two men they believe opened fire Sunday night outside a Muslim Prophet Mohammed cartoon contest in Garland, Texas, as Elton Simpson and Nadir Soofi.
A traffic officer shot and killed both men after they arrived at the event wearing body armor, carrying rifles, and began shooting at security guards posted outside the Curtis Culwell Center. No one inside was hurt.
Soofi's Facebook page was removed Monday night, but once offered a glimpse into the 34-year-old's life.
His page said he lived in Phoenix, studied at the University of Utah and owned his own carpet cleaning business. It showed recent wall posts about Israel, Islam and police brutality, and featured a prayer he posted last summer, asking Allah to forgive him for his sins.
Investigators said the men were roommates in a Phoenix, and FOX 4 has learned some of Soofi's family lives and works in Overland Park, Kan.
FOX 4 went to his parent's house Monday afternoon, where a woman identified herself as Soofi's step-mother. When we asked her about the allegations against Nadir Soofi, she began crying and said she has no comment.
Calls to Soofi's father were not returned.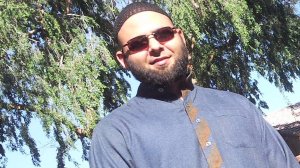 Facebook shows Soofi's dad liked the Blue Valley School District page, but the district confirmed that Nadir Soofi was not ever a student there.
We also talked with the manager of the Islamic Center of Johnson County, who cited privacy concerns and said he would not confirm whether Soofi or his family were ever affiliated with the center.
As for Simpson, investigators said he tweeted before the attack, saying, "May Allah accept me as mujahideen." In 2011, he was convicted of making false statements about international and domestic terrorism and was sentenced to three years probation.