This is an archived article and the information in the article may be outdated. Please look at the time stamp on the story to see when it was last updated.
OVERLAND PARK, Kan. -- A woman died Monday afternoon in an apartment building fire in Overland Park, officials say.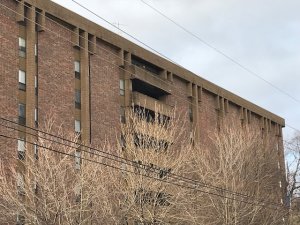 The Overland Park Fire Department said the fire, which has now been extinguished, occurred just after 2:30 p.m. Monday at Overland Towers Apartments in the 8500 block of Farley Street.
Jason Rhodes with Overland Park Fire said when fire crews arrived, they found an active fire on the second floor of the building. Firefighters found 54-year-old Bettina G. Yonally dead in a unit on that floor. Fire officials initially said the victim was a man, but later corrected that statement, saying the victim was a woman.
Two other people were taken to the hospital due to smoke inhalation, Rhodes said.
Majority of residents who were evacuated are being kept on the first floor while firefighters investigate damage and make sure the building is safe. Most residents should be able to re-enter their homes, Rhodes said.
The cause of the fire is unknown at this time and under investigation.
Farley Street is currently closed between 85th and 86th streets, and a portion of 86th Street near the apartment building is also closed. However, Rhodes said road closures around the building shouldn't affect traffic on 87th Street.
The Lenexa Fire Department and the Johnson County MED-ACT assisted with extinguishing the fire.
Those concerned about their loved ones can call the apartment complex at 913-341-3113.
OPFD, @LenexaFire & @JoCoMedAct on scene fatality fire 8500 blk Farley. Fire out. More info later. pic.twitter.com/WWmFpCvnFH

— Overland Park Fire (@OPFDMedia) December 11, 2017