This is an archived article and the information in the article may be outdated. Please look at the time stamp on the story to see when it was last updated.
LEAWOOD, Kan. — Police now say two people were injured leaving a graduation ceremony at a Leawood church Thursday night.
Police call one of the victims an innocent bystander. The other left in a private vehicle and arrived at the hospital a short time later. The suspect is still on the run Friday.
The teen, described as an innocent bystander, was walking in the parking lot of the Church of the Resurrection with his parents around 8:25 p.m. when a bullet hit him in the shoulder.
Center School District officials say this is the fifth year they've held commencement inside Church of the Resurrection in Leawood, and all seemed well until right after the ceremony ended.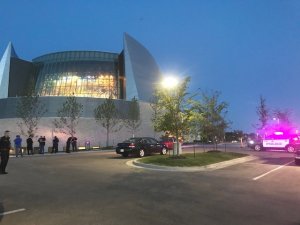 "We're sad. We're so disappointed in a couple of really bad choices from some people that we're investigating right now," Center School District spokesperson Kelly Wachel said. "We're worried, and we're trying to take care of our kids and our parents right now."
Leawood Police Capt. Brad Robbins said there was a report of a fight in the parking lot involving up to eight people. Six off-duty officers who were working security for graduation went outside and learned the fight had broken up.
When they were outside, those off-duty officers heard gunfire off to the east near 137th and Roe, police said, and as they went in that direction, they were told about the teen who had been hit by gunfire.
The extent of the victim's' injuries is unknown at this time, but police said the teen was awake and talking when he was taken to a nearby hospital.
Officers saw a lot of vehicles leaving the scene in a hurry when more police arrived on the scene, Robbins said. Police do not have any suspect information at this time.
But they do know there were likely several witnesses. They're asking anyone who saw something to contact police.
"This is a wonderful evening, a cause of celebration for these young people passing the milestone of high school," Robbins said. "And it's been interrupted by violence, and we want to get to the bottom of it."
Police believe the shooter is a former Center student.
The church does have security cameras both inside and outside the church, so police are now looking at the video to see if they can figure out exactly what led up to this shooting.
They also asking anyone who might have seen this shooting last night to give them a call on the TIPS hotline, 816-474-TIPS.
Center School District released the following statement:
"The Center community is strong, full of good people who immensely care about kids and families.  Our students are strong and resilient and they continue to amaze us with their sense of positivity and grace.  We are relieved to report that the student who was shot last night is home and recovering with his family.
"As we still are working with police on the investigation, we will be meeting with students, families and staff to ensure they are taken care of and supported.
"To our students:  we love you and know this is hard and we are so proud of you.
"To our parents and families:  thank you for helping take care of our kids.  We need you and have felt your immense support and partnership.
"To the Leawood police department and Church of the Resurrection in Leawood:  thank you for your support and care and standing side-by-side with us.
"In difficult times, we go through this together and appreciate our community's outpouring of care.  This is also a time of joy for our graduates and they want to convey their gratitude and that they will be strong as we go through this together."
Previous coverage: