This is an archived article and the information in the article may be outdated. Please look at the time stamp on the story to see when it was last updated.
KANSAS CITY -- U.S. Education Secretary Betsy DeVos visited Kansas City Academy Friday as part of her "Rethink School" tour, a campaign to showcase innovative teaching methods across the nation.
A large group of protesters gathered outside the small, private school in Waldo, opposed DeVos' positions on public education.
KC Academy is known for promoting progressive and liberal values. Some of the protesters are parents of students or former students.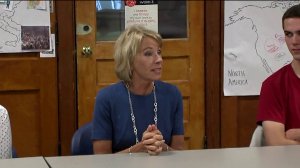 While those outside the school objected to DeVos' support of providing tax money to private schools, the secretary visited a unique culinary class and ceramic arts program in the academy, before visiting a history and government class to answer students' questions.
She explained her belief that families are best served when they can choose the best learning environment for their kids.
"Important to me is that individual students can find a school that works for them," DeVos told KC Academy students. "And we have lots of students today that don't have that kind of opportunity and the power with their parents to make those decisions."
Opponents believe such a school voucher system would harm those left in public schools.
"A lot of charter schools, they can discriminate, which is unfortunate," said Eslun Tucker, a parent of a KC Academy graduate. "They can turn their back on some poor black kid. They are not the panacea that people make them out to be. I feel like she is trying to upend public education in support of more and more private paths to education."
Kansas City Academy is known for strongly supporting students with alternative lifestyles, but no one asked DeVos about eliminating a federal policy that allowed students to use rest rooms matching their gender identity.
The diverse group of protesters also included some who claim a change in federal education sexual assault guidelines will role back protections for women on college campuses.