This is an archived article and the information in the article may be outdated. Please look at the time stamp on the story to see when it was last updated.
Editor's note: Some viewers might find footage in the video above graphic. 
OVERLAND PARK, Kan. -- A 7-year-old terrier was attacked in its own backyard by two neighbor dogs this week. The dog survived but is badly injured.
"I don`t think there was time for Teagan to react. I think they attacked him immediately," said Lauren, who asked that her last name not be used.
She and Michael are thankful to have their terrier Teagan home again.
"I say he`s my best friend, and he is, but it's even more than that. But it feels like he's my child," she said.
Tuesday evening, they let him out in their fenced backyard and seconds later heard a terrifying sound.
"Soon as I put my flashlight on him, I saw the two bigger dogs," Lauren said.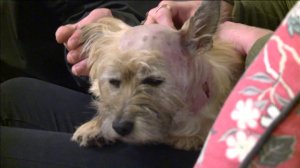 Two of their neighbor's dogs, both twice the size of Teagan, had jumped their fence and were attacking the terrier.
"One was ripping his back legs off and one was on his neck, tearing at his neck, and Teagan was just screaming," she said.
Michael was able to distract the dogs by banging a shovel on the pavement. Teagen, however, appeared to be hanging on for life.
"I thought they had killed him, and he wasn't really responding," Lauren said.
The quick actions by veterinarians at Blue Pearl helped save him, and two days later he was back at home.
"Every other day we get his bandages changed, and we just keep on antibiotics and from jumping," Lauren said.
Now, the owner of the two neighbor dogs has been served with a dangerous animal notice by the city, according to Overland Park Animal Control. The owner will have five days to remove the dogs from the city.
So what should you do if you find yourself in a similar situation?
Amy Nash with Overland Park Animal Control said you never want to physically get involved.
"If you become debilitated, then you're not able to help your pet," Nash said.
Instead, she suggested grabbing something around you to help separate the animals.
"If you have a garden hose handy, if there happens to be a chair in your own yard to use that as a barrier to get the other dogs off," she said.
Lauren and Michael did just during Teagan's attack, and while they`re happy he's alive, they say he's in a prison for now in his own backyard.
"He hasn't done anything wrong, and he can't go outside," Lauren said.