This is an archived article and the information in the article may be outdated. Please look at the time stamp on the story to see when it was last updated.
OVERLAND PARK, Kan. -- A family fled to the roof of their home at 155th and Kenneth in Overland Park Tuesday morning, as the Blue River rose and the water surrounded them. They were eventually rescued around 12:18 p.m., when a family with a military style APV was able to evacuate them safely.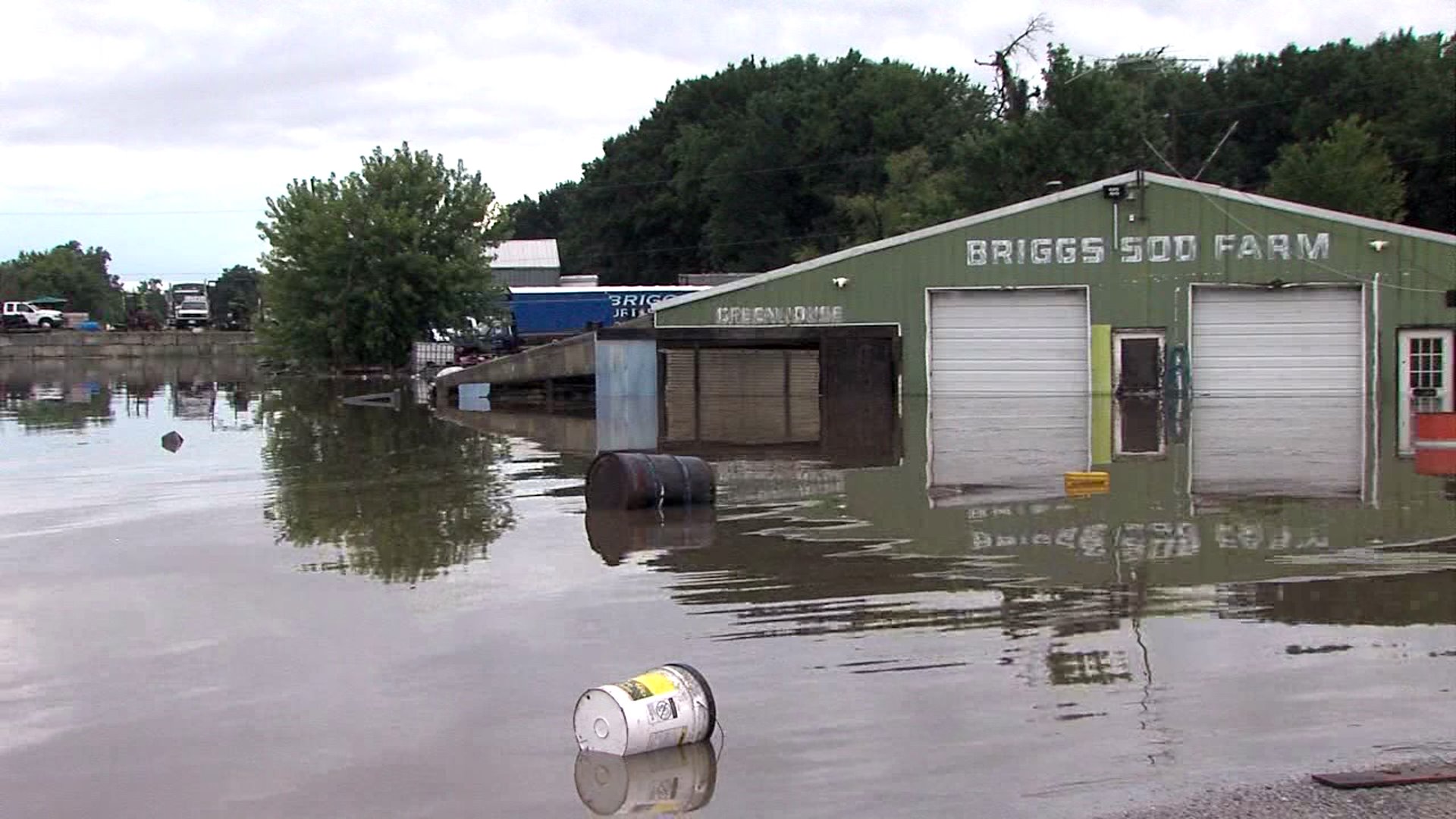 Jason Rhodes, Overland Park Fire Dept., spokesperson said the family of seven was trapped on the roof for at least four hours. There were four children, three adults and their pets.
"They are safe and calm," Rhodes said. "Because they are not in imminent danger and the water levels around them are receding, crews will allow those water levels to drop to safer levels before evacuating the family."
The Overland Park Fire Department had swift water rescue teams on hand who are specially trained to go into rushing water.
But because there was no imminent danger and the floodwaters were receding, the fire department says it didn't make sense to launch what could be a risky rescue operation.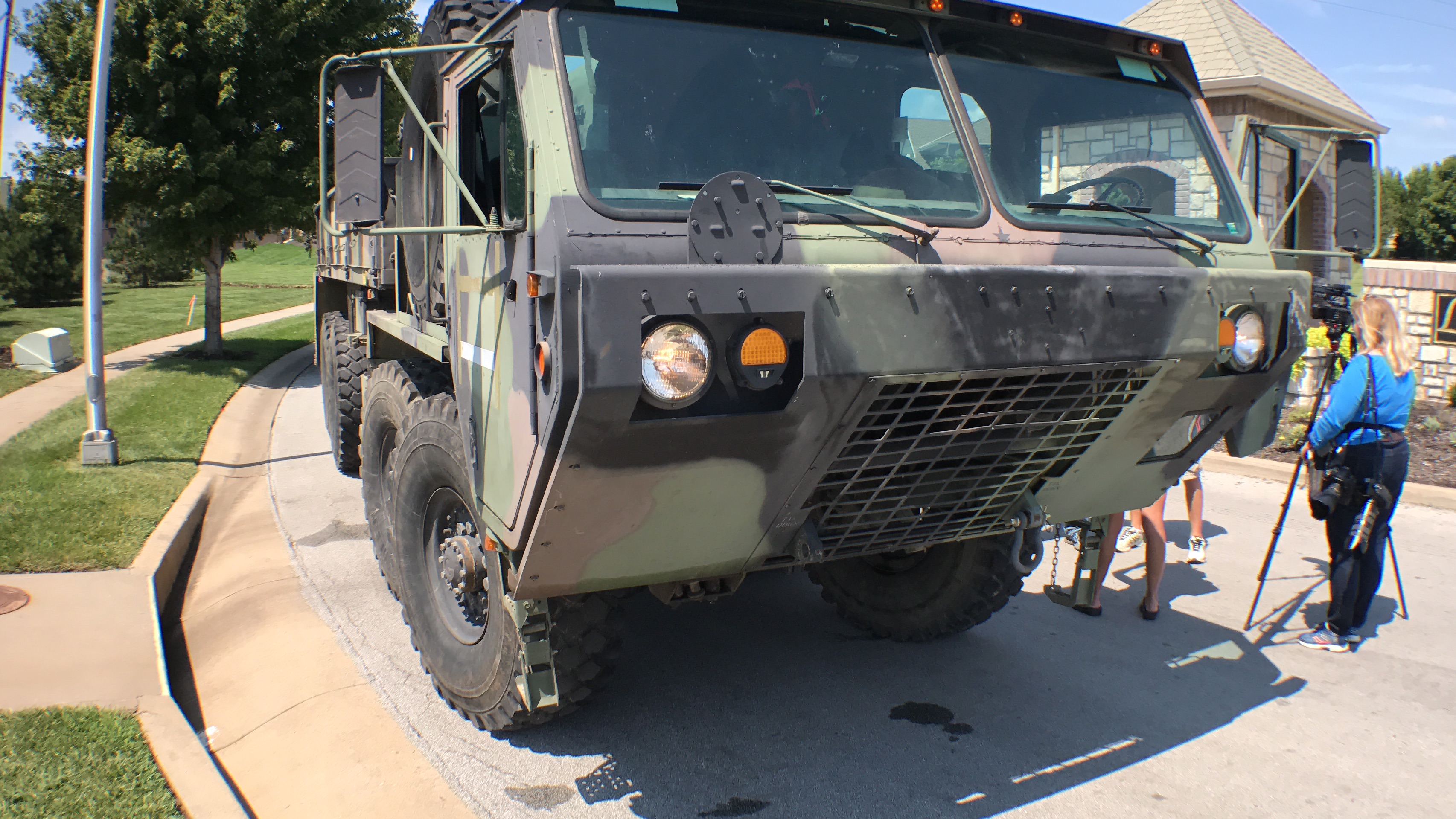 "I wish it were receding a little quicker," Rhodes said. "I'm sure they'd like to get down off of that roof. I'm sure everybody would like to see them off of that roof. It does create some anxiety. But we think we are doing the safest thing."
Anyone else in the area either self evacuated or got away safely.
The area near 151st Street and Kenneth Road is a known high water trouble spot. Those with property nearby say they just finished cleaning up from flooding a month ago. Some say this is the most water they've ever seen rush through the area.
The Blue River is a fifth order stream which flows 41 miles in a northeasterly direction through the Kansas City metropolitan area and enters the Missouri River at river mile 357. Brush, Indian, Tomahawk, Wolf, and Coffee creeks are major fourth order streams in the basin. Average stream gradients range from 4 feet/mile for the Blue River to 68 feet/mile for Round Grove Creek. Average annual precipitation in the basin is 36 inches while average annual runoff is about seven inches. Average annual discharge of the Blue River at stream mile 22 is 157 cfs. Blue River flows tend to be flashy and the stream frequently floods. (Editor's note: A previous version of this story incorrectly stated which direction the Blue River flows, it has been updated for accuracy.)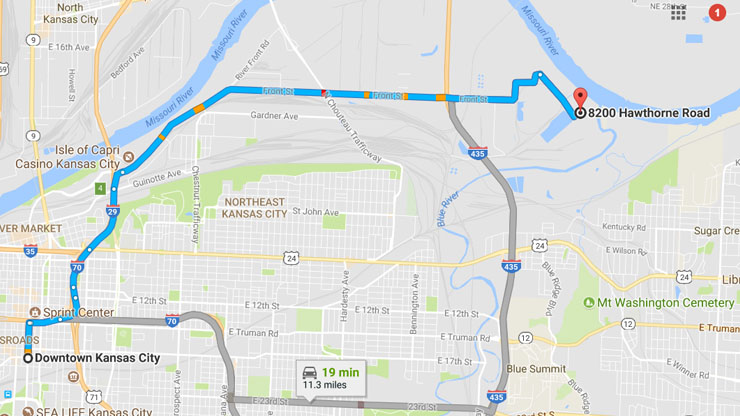 "Emergency responders are closely monitoring the Blue River which is estimated to crest in areas around noon today, specifically the area near 85th & Hickman Rd," said Stacey Graves, Kansas City, Mo. police spokesperson. "Any bridges that experienced water overages and/or water approaching underneath will remain closed until they have been inspected.
The Kansas City, Mo., Fire Dept. and Kansas City, Mo. Police Dept. responded to more than 130 weather-related calls overnight and into Tuesday morning and were still actively responding to scenes later into the morning.