This is an archived article and the information in the article may be outdated. Please look at the time stamp on the story to see when it was last updated.
OLATHE, Kan. — An Overland Park man is now facing charges after he allegedly blackmailed a woman he met on a dating app by threatening to release topless photos of her unless she had sex with him.
Joshua Gilliland, 38, has been charged with blackmail, stemming from an incident in January, in Johnson County.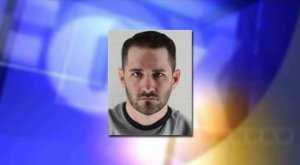 Court documents say Gilliland met the victim using the dating app Bumble. The victim told police she invited him over to her Olathe home where they drank alcohol together and kissed. The woman told police everything was consensual.
Two weeks later, the woman decided to reconcile with her ex-husband, according to court documents. When she told Gilliland, he allegedly said he had "wasted the last two weeks," court records say.
It was shortly after when the woman said she started receiving text messages from Gilliland with pictures of herself topless. She didn't remember posing for the pictures, according to court documents.
Gilliland allegedly made many references to the woman that the pictures would go away and wouldn't be posted publicly if she would have sex with him.
The woman reported the alleged blackmail to police, and Gilliland was taken into custody. He was later released after posting a $5,000 bond. His next scheduled court appearance is May 23.