This is an archived article and the information in the article may be outdated. Please look at the time stamp on the story to see when it was last updated.
OVERLAND PARK, Kan. -- Four years ago, Malena Johnson was only 10-years-old and just had a kidney transplant. Now she's a healthy ninth-grade student in Overland Park, and her mom is an entrepreneur.
To make sure Malena's body doesn't reject the transplanted kidney, she has to drink 100 ounces of water every day for the rest of her life. It was a habit that was hard for her to get used to.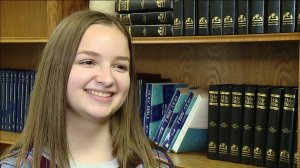 "I had watched her kind of suffer and struggle through all these medical issues for so long," her mom Tamra Johnson said. "She was always carrying around water bottles or losing them or dropping them, and I was stressing out. 'Are you drinking? Where's your water bottle?' And it was just kind of ruining our relationship."
Before a summer away at camp, Tamra Johnson invented a bag called "HOLSTRit" to help Malena drink enough water.
It's a bag that can be worn across the shoulders or around the waist, and it's big enough for a 32-ounce bottle of water. It also has zipper pockets for cards, money, phones and medications.
Watch the video above to get a full look at the bag.
"It helps a lot, all the time," Malena said. "It's better than having to carry a bottle around all day."
Malena's father was the one who donated the kidney to her, and while his wife helps recipients stay hydrated, he wants other people to know more about the donation process.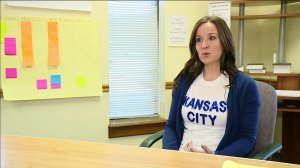 "Obviously you'd do anything for your kids," Malena's dad Jamie Johnson said. "I encourage people if they have the opportunity to donate a kidney. It's really a pretty simple process. It puts you down for a little bit, but it's a huge blessing."
Since 2016, Tamra Johnson has donated more than $5,000 to the National Kidney Foundation from HOLSTRit sales.
According to the National Kidney Foundation, 30 million Americans have some form of kidney disease, and one in seven people are a risk. Money from the Johnson's donations will help screening and prevention services in the metro.
This May, the foundation is holding its 2018 Magic Giving Gala. The Johnson family will share their donation story at the event.