This is an archived article and the information in the article may be outdated. Please look at the time stamp on the story to see when it was last updated.
OVERLAND PARK, Kan. — A priest in the Kansas City, Kan., diocese, who helps leads the Holy Spirit Catholic Church,  11300 W 103rd Street in Overland Park,  has been removed from his associate pastor position after an accusation was made against him about inappropriate conduct. The accusations involve a minor/child.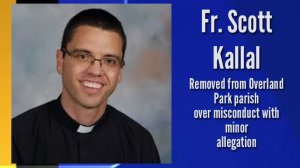 Although the archdiocese does not mention in its statement (below) that the accusation and investigation involves sexual misconduct, at the end of its statement, the archdiocese does provide information for reporting sexual abuse by priests.
According to a FOX 4 viewer, the announcement about Fr. Scott Kallal's removal was made this past weekend at the end of the weekly services.
Fr. Scott Kallal, 35, is also a member of the Apostles of the Interior Life, an order of priests whose primary ministry is to provide spiritual direction and help young people discern their vocations.
Kallal is originally from Jerseyville, Illinois.
Tuesday afternoon,  the Archdiocese of Kansas City in Kansas released the following statement:
The Archdiocese has received allegations from two separate sources concerning boundary violations by one of its priests, Father Scott Kallal, AVI.  A preliminary investigation into the allegations by the Archdiocese revealed violations of some of the Archdiocese's safe environment guidelines which all clerics, employees and volunteers are asked to observe when interacting with young people.  Because one of the allegations involved a minor, the Kansas Department for Children and Families (DCF) has been notified.  The investigation is ongoing.  The Independent Review Board has been asked to review the matter and make recommendations.
            Father Kallal has been suspended from the exercise of his public priestly ministry pending the outcome of the DCF and the Archdiocesan investigations and the recommendation of the Independent Review Board.  Father Kallal denies any moral misconduct or malicious intent and has agreed to undergo evaluation and counseling.  The Archbishop asks for prayers for all involved in this situation and reminds Catholics of the presumption of innocence unless proof indicates otherwise. 
            The Archdiocese takes very seriously any allegations made against employees, clerics or volunteers who serve in the Archdiocese.  Anyone who has knowledge of inappropriate conduct by any priest, deacon, employee or volunteer is encouraged to contact the confidential report line at (913) 647-3051 to make a report to archdiocesan report investigator Jan Saylor.  To report sexual misconduct or criminal behavior, call the above number, go to www.archkck.org/reportabuse to report online or call the DCF or local law enforcement directly. 
FOX 4 will continue our work on this story throughout the day and bring you what we have during FOX 4 newscasts and on the fox4kc app, website and Facebook page.
Click here for online blogs from Fr. Kallal, including:
Some Good in This World Worth Fighting For: Drawing Inspiration From My Little Brother
Gun Control or Better Media? Which Will Really Stop he Violence?
Are You Playing the Dating While Discerning Game? Get Out of the Confusion Now