This is an archived article and the information in the article may be outdated. Please look at the time stamp on the story to see when it was last updated.
OVERLAND PARK, Kan. – An Overland Park teen has started a petition in hopes that the city will reconsider its ban on pit bulls.
Taylor Walton, 17, launched a petition on Change.org last Thursday, calling on the city council to repeal the city's ban on pit bulls, which has been in effect since 2006.
"Being around pit bulls is one of my favorite things," Walton said. "They're very smart, sweet, very loving, and all they want to do is please you."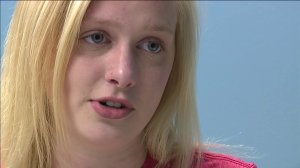 The debate over pit bulls in Overland Park date back to the late '80s when the city's governing body ruled the animals were "dangerous."
In 2006, there was concern that the existing ordinance was not safe enough and the council issued an all-out ban, which also included wolf-hybrids and Tundra Shepherd; existing animals could be grandfathered in.
"The ban is outdated and unfair," Walton said. "Pit bulls are not a dangerous breed. Any breed of dog has the potential to be dangerous."
Walton, who volunteers at an animal shelter, believes pit bulls are misunderstood. She said they're sometimes improperly identified and the media tends to highlight pit bull attacks more than other dog attacks.
"If owners were more educated, training your dog as a puppy, socializing it, making it be around people and other dogs, that is one of the best things you can do for your dog, regardless of the breed," Walton said.
The 17-year-old would like the ban to be on a case-by-case basis. However, Overland Park is one of at least six cities in the metro that ban pit bulls, and representatives at local animal shelters said they have a ripple effect.
"The majority of the reason these animals don't get adopted as quickly is because of these bans," said Casey Waugh, the communications manager at Wayside Waifs.
The no-kill shelter takes in more than 6,000 animals every year; between 30-40 percent of those animals are pit bulls.
"The pit bulls that come to Wayside may not seem like a large percentage, but they're here for a long time," Waugh said.
On average, animals stay at the shelter for two weeks. But pit bulls stay for months, sometimes even up to a year, according to Waugh.
"They are strong animals, and it's understandable that the bad stigma is there, but they're only bad dogs when they're trained to be bad dogs," Waugh said. "That's what we help with here at Wayside, teaching them that they can trust human beings again and can trust other animals."
Waugh supports Walton's petition, which had received more than 1,300 signatures as of Tuesday evening.
"It starts with one person changing the public's perception. That is why what Taylor is doing is admirable," Waugh said.
Walton said her petition, which was open to anyone, was meant to prove a point that not all people think pit bulls are dangerous. She hopes to gather a group of supporters and take her message to the city council members. A spokesperson for the city said that's one way to get the item on a committee agenda.