This is an archived article and the information in the article may be outdated. Please look at the time stamp on the story to see when it was last updated.
OVERLAND PARK, Kan. — Johnson County prosecutors filed felony theft charges against the 45-year-old Overland Park woman who they say had a large volume of stolen goods inside her home.
Kelli Jo Bauer was charged Friday with one count of felony theft, and is accused of stealing goods amounting to $100,000 or more.  Authorities are looking for people who have done business with Bauer on Facebook swap-and-shops or through her online store "My Retro Baby, LLC." If you want to provide information to the prosecution, call 913-715-3003.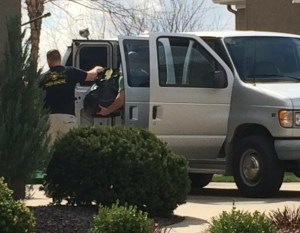 Police began investigating Bauer after they received information that she was advertising the sale of high-end women's clothing on Facebook swap-and-shop sites. They say they had been watching her activity for awhile. Then, on Wednesday, police obtained a search warrant for her home in the 13700 block of Horton Drive after arresting her for shoplifting.  Police said it could take weeks to determine the total value stolen.
In an afternoon court appearance, Bauer's bond was reduced from $50,000 to $20,000. She bonded out of jail at about 5 p.m., and is free, she's been ordered to stay out of retail stores and remain on GPS-tracked house arrest.
No one from her family was in court. She is due back in court April 9.