This is an archived article and the information in the article may be outdated. Please look at the time stamp on the story to see when it was last updated.
KANSAS CITY, Mo. — A naked man driving a yellow ATV the wrong way on Interstate 435 on Sunday is now in the hospital, under arrest.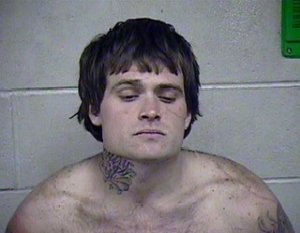 Johnathon Menth, 27, is charged with a list of crimes including burglary, property damage and sexual misconduct after his wild ride on a stolen ATV. FOX4's Shannon O'Brien spoke with the ATV's rightful owner.
This could have been very serious. Menth could have killed himself or others on his joy ride Sunday.
Now that everyone is safe and sound, the folks involved are finding humor in it, and the ATV has been returned, a little worse for wear.
If this ATV could talk, what a story it would tell.
Forrest Bryant said he noticed his ATV was missing from his garage when he got home from a birthday party Sunday afternoon. So Bryant called 911 to report that it had been stolen.
"The gal took my name and asked me to describe the vehicle," Bryant recalled in a phone interview with FOX4. "When I said it was yellow, she started to laugh and I said, 'what's going on?' She said, 'uh, we know where your ATV is. We are chasing the guy now so I expect you will be getting it back but the police will be in contact with you. Somebody will come out.'"
When officers arrived they told Bryant that Menth was riding the ATV — naked.
Officers said he led police on a crazy chase on the interstate, through pastures and yards like the yards on N. Norton Street, where police say Bryant crashed through several backyard fences.
"Everyone is kind of talking about it right now. It is the joke of the neighborhood," said one resident. "Kind of weird to come home and hear that someone rode an ATV butt naked through your neighbor's backyard."
"Oh, I thought that was just crazy," Bryant said. "The first thing I asked the police man is, 'was he high on something?' And he says, 'oh yeah. He is definitely high on something.'"
Court records say Menth told detectives that he was high and in 'flight mode'. That he was 'flipping' and could not stop.
The ATV was returned covered in mud, with a bent wheel, two almost flat tires and a dead battery — not to mention a seat that needs cleaning.
"Well, I think it needs a good sanitizing,' Bryant said. "I took it to the car wash last night before it got dark and I ran about 8 dollars worth of quarters to it trying to get the mud off of it."
A judge imposed a $50,000 bond with special instructions that if Menth does post that bond, that he not go out in public "unless fully dressed."