This is an archived article and the information in the article may be outdated. Please look at the time stamp on the story to see when it was last updated.
INDEPENDENCE, Mo. — One of Kansas City's best known barbecue spots burned to the ground overnight. The Gates Bar-B-Q restaurant located near the Truman Sports Complex in Independence caught fire just after 1 a.m Tuesday. Owner Ollie Gates is vowing to come back.
"The area out here in Independence has been really good to Gates Bar-B-Q and we certainly want to be supportive for anything that people in this area, in Independence, want us to do," Gates said. "Certainly we will try to do whatever we can to make sure Gates Bar-B-Q is back up well and alive, looking good."
That location has been part of Independence for more than 35 years.
RELATED: Loyal customers of Gates BBQ mourn loss of Independence location to fire
A restaurant worker called 911 to report that an exhaust hood over the grill had caught fire. That employee escaped unharmed. Firefighters say they had difficulty battling the blaze because of bitter cold that caused water to freeze quickly, and they had inadequate water pressure to fight the fire.
Gates says there have been fires in every one of his restaurants, but he's never seen one completely destroy one of his buildings.
"It's one of those things," Gates said. "Accidents do happen. It's one of the hazards of our occupation. And so I'll take the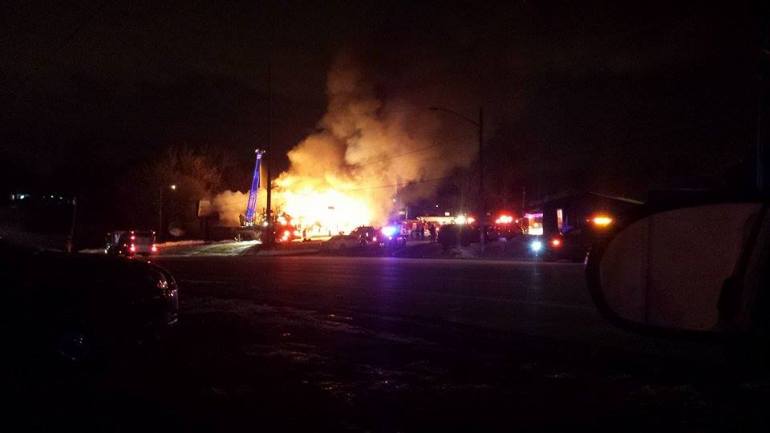 good with the bad. I've had plenty of good years. We've been here since 1979 so we've had about 35 good years. God bless us and I hope that we make a comeback."
Gates tells FOX 4 News he does have insurance and adjusters have been on the scene evaluating damages. Gates is a barbecue institution in Kansas City, with five other locations around the metro.
Gates says 35 workers will be reassigned to other restaurants while the company rebuilds. Gates also says he's eager to talk with the employee who was inside at the time of the fire to learn more about what happened.
Previous coverage:


Click here to watch a video of the fire sent in by Elizabeth Allen who lives in Independence.