This is an archived article and the information in the article may be outdated. Please look at the time stamp on the story to see when it was last updated.
KANSAS CITY, Mo. — Using people for target practice – Kansas City, Mo., police are investigating more than a half-dozen reports across the metro of shootings that involve paintball guns. In most cases, the victims are getting shot with paint balls as they walk alongside the road, and at least one person was sent to the hospital with minor injuries.
Police believe some teenagers claiming to be in a so-called "Paintball War" with other teens might be responsible; but so far, only unsuspecting adults have been caught in the crossfire.
"He said he got shot!" remembered Mickey Lee, who called 911 last week after someone drove down his block on Park Avenue and fired multiple rounds of paint balls at his friend, an elderly man who is disabled.
"They shot him three different places," Lee said, "and it could've been a gun, you know, something more serious than what it was."
His friend, then covered in paint, went to the hospital with welts and a bloody arm.
"It's also scary," Lee said, "because that thing could still hurt you, hit you in the eye and you lose your eye."
Police said it's just one of seven incidents reported city-wide over the past week-and-a-half, in which a person or home was used for paintball practice.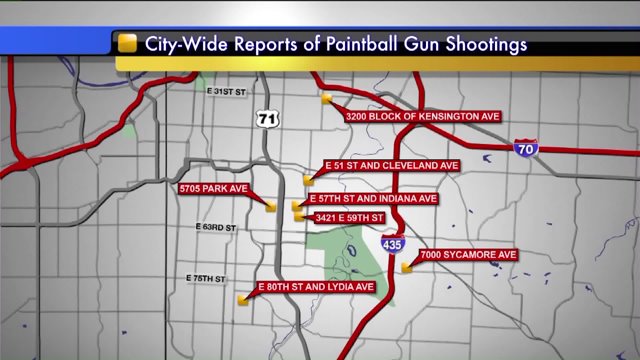 Suspect and car descriptions vary, but police are now investigating to see if the cases are related, and whether groups of mischief-making teenagers might be pulling the triggers.
"What they going to have next –guns?" asked Phyllis Haynes, whose relative was hit with a paintball. "And if they think it`s cool to shoot you with a paintball, they're going to think it's cool to shoot you with a real gun! So something needs to be done."
It's a crime trend that's hurting people and property.
"There's some up here, it's like a neon blue," Nancy Gordon said as she pointed out paintball markings left on her front porch on Sycamore Avenue. "Up here, along the door, it just kind of splattered all over the place. It's an awful feeling. It's just like somebody's violated you space."
This isn't a game for these victims, and they want those responsible to know what might seem like a funny prank can have serious consequences.
"Somebody could really get hurt real bad," Haynes said, "and that's terrible."
The cases where someone was struck with a paintball are being recorded as aggravated assaults, which could equal a criminal charge for some of these teens.
If you know anything, call CrimeStoppers at (816) 474-TIPS.