This is an archived article and the information in the article may be outdated. Please look at the time stamp on the story to see when it was last updated.
LEAWOOD, Kan. -- Panicked parents rushed toward a school bus that suddenly burst into flames on a quiet Leawood neighborhood street Friday afternoon.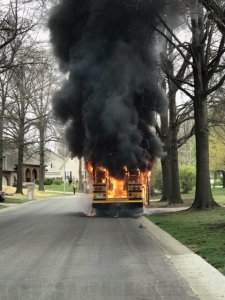 A bus driver and two middle school students on board escaped just in time. None of them were injured.
The bus was making final drop-offs for Overland Trail Middle School, which is in the Blue Valley School District, around 3:30 p.m when it pulled over near 131st Street and High Drive.
Witnesses described a frantic scene, intense flames and a giant plume of black smoke that could be seen from several blocks away.
Mother Cristen Summers noticed the commotion and initially thought, "That could've been my kids on that bus. It was definitely just a sight to see that it was a school bus engulfed in flames completely!"
Summers said everyone in the neighborhood acted quickly.
"I think everybody was shaking," she said, "and just wanting to make sure everybody was okay. Everybody started just kind of running towards it… to make sure kids weren't on it."
Father Jason Reif was one of the people who stopped to help, as he didn't immediately realize everyone was safe.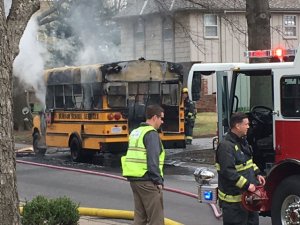 "Got out of my car, was about to open the back doors, somebody else opened the back door, we both got engulfed with smoke," Reif said, "and then all of a sudden we hear everybody outside yelling, 'Get away from the bus! We're all out! We're all out! We're safe!'"
Firefighters are now investigating how the fire started, telling reporters the bus driver pulled over when she started to smell smoke.
"I'm just curious why all of a sudden a bus would go up in smoke right here in our neighborhood," Reif wondered. "It's just odd, right?"
It was a close call firefighters say could've been deadly, had it not been for the bus driver's quick thinking.
"I'm just glad everybody is safe," Summers said, "and the bus driver did her job and did what she was supposed to do and it's a blessing right there."
A spokeswoman with the bus company, Durham School Services, told FOX 4 the fire is still under investigation and it's not yet clear how long it will take to determine the cause.