This is an archived article and the information in the article may be outdated. Please look at the time stamp on the story to see when it was last updated.
EXCELSIOR SPRINGS, Mo. — It's a rite of passage for many in the metro right now — walking across that stage at graduation. For one young man in Excelsior Springs, it took a lot more than just making the grades to get there.
FOX4 told you about Greg Murphy before.  In 2016, an ATV accident paralyzed him from the chest down. Yet this weekend, he managed to walk across the stage.
At Excelsior Springs High School Friday night, as Greg Murphy's name was called, the crowd cheered. As he was wheeled onto the stage, the crowd continued to cheer. Then, as a silver walker was pulled from a hiding spot, the crowd grew silent.  It was at that moment that the crowd knew.
It took a lot for Greg Murphy to get to this moment.
"I just waited on my name to get called," the graduate explained. "And once it did, I went up there. I had the help of my two friends, locked my legs out, stood up and then took the steps across the stage."
"I don't remember a whole lot," he said, "because when I stood up, everything went really quiet in my head. I remember looking around, and seeing people standing up, but I didn't hear anything, really. But looking back on the video, I can tell it's really loud."
Greg Murphy says it nonchalantly; his demeanor does not convey how much work it took to get to this point.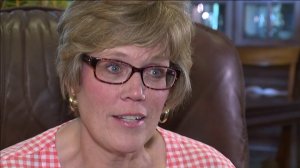 "We're all different people for it," said his mother Angie, "but we're all better people for it."
On Presidents Day weekend 2016, an ATV flipped onto Greg, landing on his chest and paralyzing the high school football and basketball player.
It took months of physical therapy, both in Denver and Kansas City, and every ounce of determination Greg had to swing his 6-foot-6 frame across that stage Friday night.
It was just a few dozen feet, but for a man who has been paralyzed for years, it was freedom.
"It meant a lot," said Greg.  "It's been my goal.  It's been my goal since the day I got hurt just to do that."
He continued, "I don't want to go just four or five steps and have to stop," he said. "If I was going to do it all, I was going to be sure I went all the way across."
That same tenacity will drive him to college in University of Central Missouri in Warrensburg this August. After that, he hopes to walk into his future.
"If I never stopped during this, then I don't think there's anything else in life that could happen to me," he said, "that could make me stop doing whatever it is I'm doing.  If I can deal with this, I can deal with anything really."
Already, he's taken the first steps.
Greg's steps are also making the rounds on social media. "It keeps growing," he said. "Every time I look at the number of total views, it just keeps getting bigger and bigger."
The former high school athlete is glad that his message resonates with so many.
"They're seeing it, and maybe I'm inspiring them to do stuff. As long as they're seeing it, and getting something out of it, that's all that really matters."