This is an archived article and the information in the article may be outdated. Please look at the time stamp on the story to see when it was last updated.
KANSAS CITY, Mo. — Three years later, a KC couple says the murder of their 22-year-old son is still painful to think about.
"All the time I think about my son," Bertha Dorvilus said.
"Oh, yes, that was a lot of pain for me then, and today I'm still feeling the pain," Annessoir Annelus said.
Police said on March 23, 2015, somebody shot Adlet Annelus 19 times in broad daylight near East 57th and Park in Kansas City.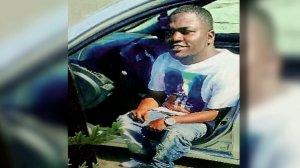 "Whoever did it, they not only killed my son, but they killed my family," Dorvilus said. "I mean every day we cry. I don't sleep all the time."
Adlet's parents said they moved to Kansas City for a better life.
"I just don't understand all the gun violence," Dorvilus said. "I can't figure out why people are doing so much shooting in this country."
On Monday she, her husband and members of Ad Hoc Group Against Crime canvassed the area where Adlet was gunned down three years ago.
Police said Adlet's girlfriend told detectives she, Adlet and a male friend of Adlet rode down Park Avenue around 3:30 p.m. that day. The woman also said moments after Adlet stepped out of the car, he got into a heated argument with a man and then a series of gunshots rang out.
Adlet's parents said their son was shot 19 times and later died at a hospital.  Witnesses told police after the shooting, the gunman got in a red vehicle and the driver sped off. Investigators say three other guys were in the car with the shooter.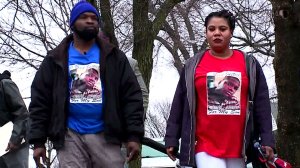 "My son was shot in both arms, pretty much all over his body," Dorvilus said. "When I went to the hospital to see him, he was laid out like an animal."
As the couple knocked on doors and passed out flyers, they wore t-shirts pleading for justice for their son.
"My son did not have any known enemies," Annessoir Annelus said. "I don't know why this happened, but all I know is that we want justice for my son."
Investigators fear if more witnesses don't come forward and tell Kansas City police what they saw that fateful day, the man's unsolved murder will become a cold case.