This is an archived article and the information in the article may be outdated. Please look at the time stamp on the story to see when it was last updated.
KANSAS CITY, Kan. — The parents of a four-year-old girl who was left at Wyandotte County Lake Park for several hours before her family realized she was gone, blame a break-down in communication.
Investigators say the little girl was found wandering alone at the park Saturday night and it wasn't until her mother saw her little girl on the news the next day, that she realized she was gone. People at the park had spotted the child and notified a deputy, and when no one came looking for the four-year-old, authorities released her picture to news outlets to alert the public.
Amanda Harris said when she saw her daughter on the news, she screamed and cried. She and her husband,  Josh Harris are the parents of 5 children ranging in age from four to nine-years old. They will now have to attend a custody hearing to get their youngest child, Zayshia, back. She is currently in protective custody.
"We went in separate vehicles. There was a big, I guess a big miscommunication between all of us, I guess," said Amanda Harris.
Amanda says she left the park with their two older girls and Josh had their two boys. The couple says they thought Amanda's stepmom had Zayshia.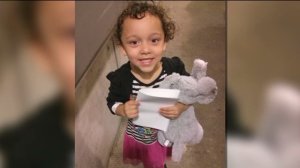 "She was supposed to take my daughter with her in her car. She knew this and Zayshia ended up getting left at the lake," Amanda Harris said. "A child molester could've got her or anything. I'm blessed that she's okay."
Zayshia's parents say they realize the dangers Zayshia faced out there alone, but say it was a miscommunication mistake and that they will fight to get their daughter back because they are good parents.
"We've never had any issues. You know we're good parents," said Josh Harris. "By any means necessary we're gonna fight for our daughter back. You know it was just a miscommunication and now it has turned into a nightmare that we can't wake up from."
"I've never left my kids anywhere. I always know where my kids are," Zayshia's mother said.
The Wyandotte County Sheriff said Zayshia was talking to deputies and to the medical personnel tending to her and was in good spirits during her ordeal on Saturday.
No charges have been filed against the parents. The Harris' custody hearing is scheduled for this week, likely by Wednesday.