This is an archived article and the information in the article may be outdated. Please look at the time stamp on the story to see when it was last updated.
PLEASANT HILL, Mo. – The parents of a newborn discovered inside a blue plastic container encased in concrete, have both been charged second degree murder, although police did not have them in custody on Tuesday and were seeking the public's help to find them.
On Tuesday police did make an arrest, but not one they had intended to make. A neighbor spray painted a strongly worded message on the home where the baby was found.
"Baby Killers not allowed in Pleasant hill, Missouri and not in the US of A" was emblazoned in black spray paint on the home's siding all done in the presence of FOX 4 cameras. And while the man seen doing it was arrested, police are really looking for the couple who lived in the home.
RELATED: Baby discovered encased in concrete in Pleasant Hill, Mo., home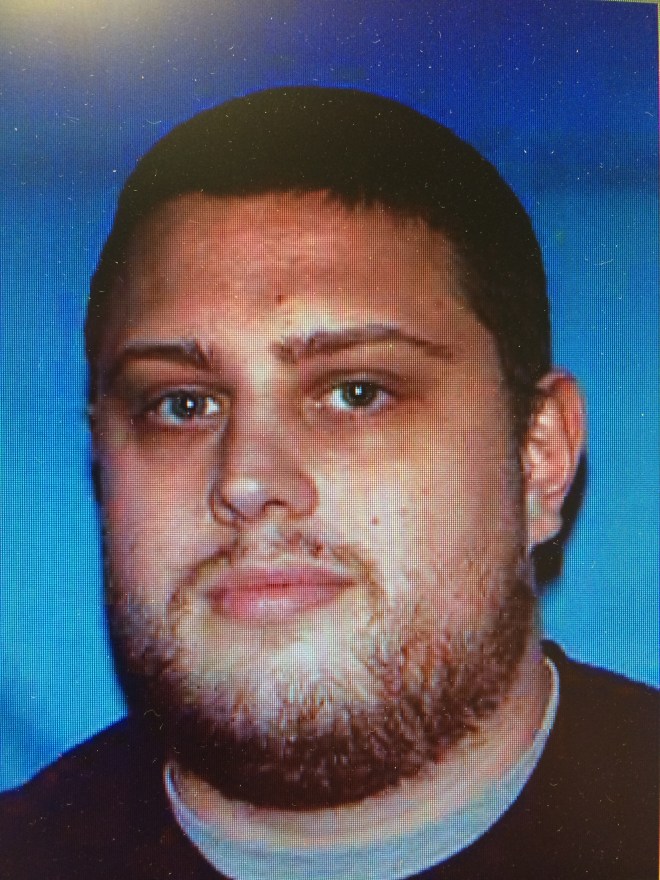 Matthew Scroggs, 28, and Krystal Scroggs, 29, have been charged on multiple counts of child endangerment, and one count each of felony second degree murder.
In November of 2013, police received reports about a stolen vehicle and possible drug activity inside the couple's home at 304 Cline St. in Pleasant Hill, Mo. When officers got to the home they arrested Matthew Scroggs in connection to the stolen vehicle that was found outside his house, and was reported to have been stolen out of Kansas City, Mo.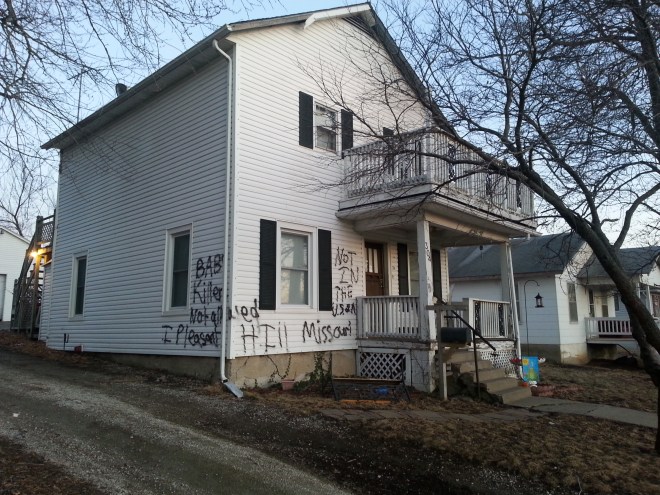 According to court documents the same source who reported the missing vehicle and drug activity at the couple's home, had also allegedly stated to police that Matthew had said Krystal was transported to a hospital towards the end of October 2013 due to an infection from possibly giving birth.
RELATED: Home where baby was found in concrete burglarized after initial investigation
When police brought Matthew in for questioning, police say he waived his Miranda rights and admitted to using both marijuana and methamphetamine. After signing a form giving authorities consent to conduct a search of the home, they say he told officers where illegal items and drug related paraphernalia could be found at the residence.
According to a probable cause statement, while inside the Scroggs' residence, police discovered a blue plastic feed container filled with what appeared to be freshly poured concrete. Officers reported the container was sitting alone in the center of the garage area, which led them to believe the body of a newborn child may be inside.
RELATED: Father of baby found encased in concrete charged with abandonment of corpse
During a second interview with Matthew Scroggs, police questioned him about the recent pregnancy of his wife, Krystal. Initially he denied she had been pregnant, but later acknowledged she miscarried five months into her pregnancy. When police showed Matthew a photo of the blue plastic container and asked what was inside, he admitted that it was "the baby." He told police the baby had been delivered stillborn inside one of the bedrooms of his home.
During an interview with Krystal Scroggs while she was still in the hospital, officers said she acknowledged being pregnant but did not seek prenatal care and said she did not want any more children. She said she planned to put the child up for adoption once it was born. Krystal admitted she had used methamphetamine and marijuana throughout the duration of the pregnancy, and said her husband had assisted with the birth.
She said once the baby was born, the baby looked normal, but would not eat. She said she and Matthew had fallen asleep and when they awoke the baby was dead. She said she placed the baby inside a box and said her husband agreed to bury him.
The documents go on to state that following Krystal's interview with police, Matthew was interviewed once again and asked about the baby. At first he said the baby never took a breath, but after further questioning he stated the baby demonstrated difficulty breathing, and would stop breathing unless his wife bounced or rubbed the baby.
The probable cause states Matthew Scroggs said he had previously researched online that methamphetamine use during pregnancy could cause complications, including breathing difficulties, and stated he expected the baby would suffer complications. It says he acknowledged that neither he nor Krystal attempted to seek any medical attention for the baby.
The Jackson County Medical Examiner's Office performed an autopsy on the deceased baby. The remains of a male infant were discovered after the concrete was removed from the blue tub. The autopsy revealed the baby had methamphetamine in his system. The cause of death was determined to be methamphetamine intoxication due to the mother's use of the drug.
Four other children, ages three, four, six, and eleven, were also removed from the home. Matthew and Krystal were charged with five counts each of endangering a child. Methamphetamine was discovered in the systems of all four children as well.
In a press release on Tuesday, police stated that Matthew and Krystal Scroggs are not in custody. They ask anyone with information on the whereabouts of the two defendants to please contact the Pleasant Hill Police Department at (816) 540-9109.