This is an archived article and the information in the article may be outdated. Please look at the time stamp on the story to see when it was last updated.
RICHMOND, Mo. -- Some parents in Richmond were upset Monday night when their children came home from public school with a note about ice cream at lunch.
Announcing "Frozen Friday", the note explained a new school lunch incentive program. It said kids could buy ice cream for $1 at lunch if they bought a meal from the school cafeteria or got it for free or reduced price – but not if they brought lunch from home.
"We will not be offering this to the kids who bring their lunch from home because we are trying to get them to eat our school lunch, and to also help our school lunch program, which also helps our school district," the note read.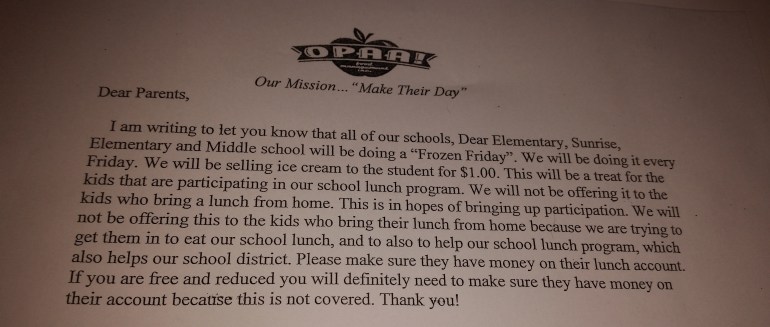 Excluding certain children angered parents, several of whom sent emails to Fox 4 with concerns.
"It just made me really upset, mad, disappointed in our school district," said one mother who asked Fox 4 not to reveal her name to protect her young son. "It irritated me that they weren't giving a fair opportunity to everybody."
Another man emailed us saying, "Parents all over town are outraged by this letter. Most of our children take their lunch due to food preference or medical/allergy reasons and should not be 'bribed' to eat school lunch."
Richmond R-XVI School District Superintendent Dr. Mike Aytes said Frozen Friday was meant to increase lunchroom sales, but was misguided.
"There was evidently some miscommunication," he said.
He said the note was sent out without district approval by Opaa!, the third-party food management company that provides school lunches.
"It's unfortunate," Dr. Aytes said. "Good people were well-intended, probably made some mistakes in what went out and it didn't get the proper level of review and we are taking the steps needed to make that right."
Dr. Aytes said he's since reversed the policy so that ice cream will be available for every single child to buy on Fridays. It's a move that calmed parents who told Fox 4 they hope the district is more cautious next time it sends out a note to every family.