This is an archived article and the information in the article may be outdated. Please look at the time stamp on the story to see when it was last updated.
LAWRENCE, Kan. — A judge has granted a stay in the case of a Park University professor who was detained by immigration officials last month. Now his attorney will have an opportunity to have a judge hear the case.
Family confirmed to FOX4 Thursday that Syed Jamal was granted a stay of deportation. Kansas Rep. Lynn Jenkins also confirmed the news to FOX4.
"Last week my office was contacted by Syed's family and asked that I intervene on his case," Jenkins said. "Since then, we have been in constant contact with ICE, USCIS, and the family on this matter, doing everything we can to ensure due process is given to Syed. I just received word that a temporary stay has been agreed to in order to allow for Syed's case to appear before a judge. This is welcome news and I am pleased Syed's case will be heard before a judge."
Platte County Sheriff spokesperson Erik Holland confirms Jamal was picked up by ICE officials and is no longer being held in Platte County. Holland told FOX4 he doesn't know what  happens or where a detainee goes once ICE picks them up.
The 55-year-old was set to be sent back to his home country of Bangladesh Friday.
Jamal was detained by U.S. Immigration and Customs Enforcement agents at his home in Lawrence in January. His wife and three children watched as immigration officials arrested him.
"They were loading my dad into the car. They had him in handcuffs," said Taseen Jamal, Jamal's son, "That moment, it sort of felt like something was missing in my chest, and I couldn't breathe."
Carl Rusnok, ICE's central region spokesperson, said due to security reasons, the agency doesn't provide advance notification of its deportations schedules and therefore couldn't confirm the date given in the Facebook post.
A lawyer representing Jamal filed paperwork asking for a stay in his case.
The Park University professor is an immigrant from Bangladesh who has lived in the U.S. for more than 30 years.
"To allow someone to stay here that long and then just suddenly take it away because you're now going to decide to enforce strictly our immigration laws seems to be in opposition to humanitarian concerns," said Jeffrey Y. Bennett, a Kansas City lawyer retained by the Jamal family. "You can't let someone plant a seed here in the United States, and then pull out their roots once they've grown."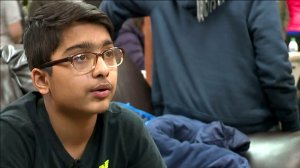 But according to ICE, Jamal overstayed his visa twice and violated an order by a judge to leave the country.
The Facebook post says friends and family believe Jamal's case "was not adjudicated correctly and the 2011 court case was legally flawed."
"Deporting a person when the order is not legally sound is a threat to the system," the Facebook post added. "That is not what the American legal system stands for."
Jamal's attorney said it's possible that his wife could also eventually be deported. Right now, she remains in Lawrence and is taking care of the couple's three children.
Hundreds in Lawrence started a letter writing campaign to support Syed. A Change.org online petition has garnered more than 28,000 signatures. Donations have been pouring in to a GoFundMe page set up to help the family with legal costs.
Previous coverage: