This is an archived article and the information in the article may be outdated. Please look at the time stamp on the story to see when it was last updated.
PARKVILLE, Mo. — A former yoga instructor for children is accused of molesting one of his 6-year-old students.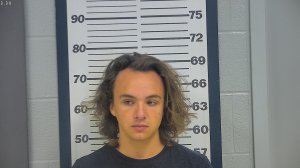 Christian A. Hammond, 22, is charged with child molestation in Platte County.
On Nov. 9, police received a tip regarding someone molesting a child at Parkville Children's Cottage, Montessori School, according to court documents. Police spoke to the 6-year-old victim and the victim's mother, and the victim told police that on Nov. 7, he got a hug from Hammond, the yoga teacher at the school.
The victim told police Hammond had reached down the front of his pants and touched him, and that this had happened on multiple occasions. The victim also told police that Hammond had grabbed his buttocks several times after yoga class, court records say.
Police arrested Hammond on Tuesday in Parkville and was interviewed at the station.
Hammond admitted to police that he had grabbed the child's buttocks and genitals outside his pants several times, but denied ever touching him skin-to-skin. Hammond also admitted to police that he had pulled the victim's pants away from his stomach and looked down his pants.
When police asked him why he targeted the victim, Hammond said, "I don't know. He is a cute child."