This is an archived article and the information in the article may be outdated. Please look at the time stamp on the story to see when it was last updated.
KANSAS CITY, Mo. — Part of Kansas City's Jazz District is closed down after a section of historic building's wall fell in Thursday.
Now, engineers are deciding whether the remodel of that building at 19th and Vine should continue.
The building owner, Lisa Walker-Yager, said the remodel is going according to plan.The building is privately owned and was in process of undergoing a face-lift to eventually reopen in the near future.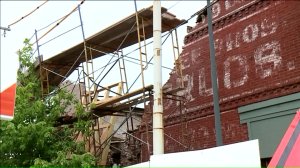 Workers were attempting to take down the wall as part of a rehabilitation project at the Mardi Gras building when it partially collapsed. No debris fell into the street however the scaffolding did get pushed back a bit and into a telephone lines.
"We braced it to accommodate for most safety issues that needed to be accommodated for," engineer Clark Kelly said. "As they were starting to take the brick from the top down, it started to move. The bulge went first and some of the upper interior went with it as well."
No buildings were evacuated, but a section of 19th and Vine will be closed while the building is inspected and some of the debris is cleared.
"It`s not a setback. This is a push forward," Walker-Yager said. "This is what we needed. This is what we needed to get done. Now we`re coming into something new."
Walker-Yager said the rehab project will continue, but city officials said they are awaiting a report from their engineer to determine if the building can be saved or should be demolished.