This is an archived article and the information in the article may be outdated. Please look at the time stamp on the story to see when it was last updated.
PALM SPRINGS, Fla. — A high school principal has allegedly been caught in the backseat of a parked car with a student, smoking marijuana with her shirt unbuttoned.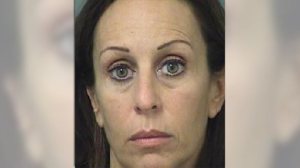 The Orlando Sentinel reported that 45-year-old Krista Morton has been charged with possession of marijuana after allegedly being caught with the 18-year-old man.
Police responded to a car after a report of sexual activity in a car. They found Morton with the student and Morton allegedly had her shirt unbuttoned, exposing part of her chest.
Morton allegedly said she had just met the teenager, but the student admitted she was his principal.
Police said they could smell marijuana and found the drug along with other paraphernalia. Both the student and principal were arrested.
Morton is the principal of Mavericks High School in Palm Springs, Fla.