This is an archived article and the information in the article may be outdated. Please look at the time stamp on the story to see when it was last updated.
CHATTANOOGA, Tenn. -- A once devoted, disciplined mixed martial arts fighter. A top student known for smarts, charm and humor. A devout Muslim, who kept in touch with his roots in the Middle East.
That's how a former coach and classmates describe Mohammad Youssuf Abdulazeez, 24, who shot dead four U.S. Marines and wounded three more people in Chattanooga, Tennessee, on Thursday, then died in police gunfire.
People who knew him were stunned to hear that he was the man who sprayed a military recruiting center at a strip mall with bullets then drove seven miles to assault a Navy Operational Support Center.
The FBI hasn't released much information on Abdulazeez and says it doesn't yet know for sure what motivated the bloodshed, but it is working on an assumption. "We will treat this as a terrorism investigation until it can be determined that it is not," said FBI special agent Edward Reinhold.
Abdulazeez was born in Kuwait and had Jordanian citizenship, law enforcement officials said, and was a naturalized U.S. citizen.  Scott Schraeder, Abdulazeez's former mixed martial arts coach, thought of him as "all American."
So did former 10th grade classmate Kagan Wagner, who now lives in Washington state.
She was following the news about the shooting spree in her native Chattanooga. Then she heard her old classmate's name. "I thought to myself, there's only one Mohammad Abdulazeez that I know in Chattanooga. I immediately, I was like, please don't let it be him," Wagner told CNN's Drew Griffin.
She never would have thought he could do something like that.
"He always fit in," she said. "He had a big group of friends. He was never bullied or treated like an outcast. He was pretty popular." And he was funny. "Always had a witty comment to add."
Next to his senior yearbook photo from 2008, Abdulazeez added a quip he attributed to "Hijabman." "My name causes national security alerts. What does yours do?" it said.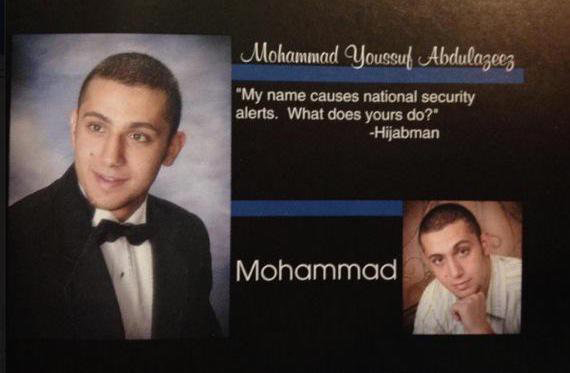 Wagner believes he was making a joke. "It was funny at the time," she said, "and now, it's a little morbidly ironic."
Eventually, the two classmates lost touch after graduation. Abdulazeez went to the University of Tennessee, where he graduated with a degree in electrical engineering in 2012.
People who knew Abdulazeez described him as religious.
"He was a devout Muslim and used to talk about his families' prayer habits and that always interested me to hear about his culture," said former classmate Samantha Barnette.
He at times interrupted training sessions with fighting coach Schraeder to pray.
"I wouldn't call it overly religious," Schraeder said. "He followed his religion; he would pray at six o'clock. He'd go into our office and pray." But he would skip prayers at times, he said.
Schraeder does not believe he was an extremist.
---
Thursday's assault on a U.S. military recruiting center in Chattanooga, Tennessee, was the latest in a string of attacks on the centers over the last seven years.
With that type of track record, wouldn't you expect to find pretty stringent security measures being taken? Apparently, they're not so stringent.
"An Army recruiting center is the Army in the community. If young men and women want to come and talk to us, we need a nice, open area for them to come and do that," said Brian Lepley, a civilian spokesman for the U.S. Army Recruiting Command. "We need a welcoming area. You know, barricades, barriers and built like a fortress is not really an inviting atmosphere."
Lepley said security measures are taken at these facilities, but he wouldn't say what they are.
These are the recruiting center attacks since 2008.
Chattanooga, 2015
Gunman Mohammad Youssuf Abdulazeez began his shooting rampage in Tennessee at a recruiting center in a Chattanooga strip mall. He unleashed a barrage of bullets from an AK-47-style weapon, law enforcement officials said, injuring a recruiter. Abdulazeez went to a Navy operational support center 7 miles away and opened fire again, killing four Marines and seriously injuring a sailor, a Pentagon official said. Police killed the gunman. He was born in Kuwait and had Jordanian citizenship, two law enforcement officials said.
Washington, 2010
Former Marine reservist Yonathan Melaku pleaded guilty to shooting at the Pentagon and other military-related buildings and to trying to desecrate graves at Arlington National Cemetery containing the remains of veterans who fought in Iraq and Afghanistan. The drive-by shootings took place in October and November of 2010. Two of the targets were recruiting centers in northern Virginia. Melaku is a naturalized U.S. citizen who was born in Ethiopia. Prosecutors said he had "a large amount of jihadist material on his computer."
Arkansas, 2009
Abdulhakim Mujahid Muhammad, an American citizen and Muslim convert, was sentenced to life in prison for shooting two soldiers at a military recruiting center in Little Rock, Arkansas. He was charged with killing Pvt. William Long and wounding Pvt. Quinton Ezeagwula. Muhammad was angry at the U.S. military because of "what they had done to Muslims in the past," Little Rock homicide Detective Tommy Hudson has said.
Times Square, New York, 2008
A bomb exploded in front of a Times Square recruiting center in March of 2008. The blast went off around 3:45 a.m. There were no injuries. Surveillance footage showed someone riding a bicycle away from the scene shortly after the explosion. The case was never solved.
---
Abdulazeez was not in any U.S. databases of suspected terrorists, a U.S. official said.
His only reported prior trouble with the law was a DUI arrest in April. His court hearing was scheduled for July 30.
When he killed the four Marines, Abdulazeez was carrying an AK-47 style rifle and a lot of ammunition, a law enforcement official said.
He held off responding police officers for a while, an official said. Police found 30-round magazines on his body and several weapons, FBI special agent Edward Reinhold said.
Abdulazeez appeared to have acted alone.