This is an archived article and the information in the article may be outdated. Please look at the time stamp on the story to see when it was last updated.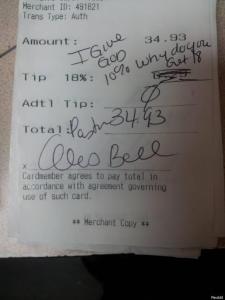 ST. LOUIS — A St. Louis-area pastor is in an Internet firestorm after writing a snide remark on an Applebee's receipt. The receipt was posted on Reddit.com and quickly became Internet fodder.
The pastor, Alois Bell, said she has been harassed because of the incident and admittedly used poor judgment.
Bell added that she called restaurant managers to complain about the receipt being posted online and the waitress who did so was immediately terminated.
The comment Bell wrote on the receipt: "I give God 10% why do you get 18?"
Bell was in a party of 20, which is why the 18 percent gratuity was automatically added to the bill. Bell said she did leave the $6.29 tip that was tacked on to her bill — as did others in her party.
KTVI-TV in St. Louis sat down with Bell, who again, apologized for her actions. Watch her interview.
Bell is the pastor of a 15-member church known as the Truth in the World Deliverance Ministries. Bell said she had a lapse in judgment and that the incident has been blown out of proportion. She added that her ministry does good work and would never want to tarnish Christianity.
Bell is expected to speak with KTVI about the incident on Thursday. Refresh this page for updates.