This is an archived article and the information in the article may be outdated. Please look at the time stamp on the story to see when it was last updated.
KANSAS CITY, Kan. — A pastor who has spent years ministering to men behind bars is now praying for the pair charged with robbing and beating him.
"I'm praying that I'll get a chance to minister to them and lead them to Christ and they come to church."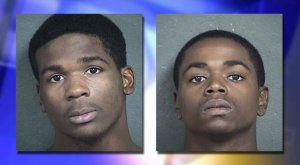 Wyandotte County prosecutors charged 19-year-old Ladarious Barkers and 20-year-old Marvin Moore Sunday with nearly half a dozen crimes which include robbery, battery, burglary, and theft. Prosecutors say the pair beat and robbed an 82-year-old priest then stole his car at Blessed Sacrament Catholic Church last week.
Investigators say the two men also robbed the pastor of Timothy Baptist Church Friday, then forced police into an hours-long standoff at a home nearby.
While the priest remained in the hospital Sunday morning, the pastor from Friday's attack led his congregation's service.
Rev. Louis D. Sipple shared his story of faith and resilience with FOX 4's Megan Dillard.
He said, "It was a blessing to be alive. So I came here ready to praise God."
Rev. Sipple was lucky to stand at the head of Timothy Baptist Church Sunday morning following an attack in the church parking lot Friday afternoon. Sipple was checking the gas level in the church van when he said he saw a man standing by the gate.
"I was watching him and the other young man went to the back of the gate and came around behind me and hit me over the head with something. They wrestled me down because I was dazed and they gave me a good beating," Sipple said.
They took his wallet, the cash inside, and his phone, but Sipple said those things can be replaced.
"I'm blessed. I'm a little sore, but I'm alive. And I thank God for that."
That is the what he wanted his faith family to take away from the service; standing together and not holding any grudges.
"It's not easy. I never said it's easy. But with God's help, you can forgive. They roughed me up pretty bad. I'm not going to lie and say I wasn't upset."
The minister is also praying for the suspects' parents.
"Sometimes, most of the times, the families mothers and fathers are the ones that suffer when they see their children getting into something."
Sipple said he's felt the love from so many over the past couple days. He stands strong and resilient, a far cry, he said, from lying on the concrete taking a beating just days before.
"I forgive the boys, I really do. I forgive them and I pray that they would find the Lord. They're off the street, and they'll have time to think about what they've done."
Pastor Sipple and his wife have led Timothy Baptist Church for nearly 30 years, and before that, he ran a local grocery store and a daycare. Neighbors and friends said he's highly-respected and well known in the community.