This is an archived article and the information in the article may be outdated. Please look at the time stamp on the story to see when it was last updated.
OLATHE, Kan. — A Johnson County judge heard evidence Monday against a Gardner, Kan., woman charged with first degree murder in the death of a 2-year-old girl.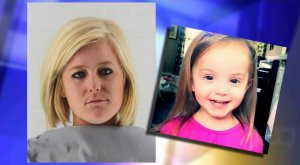 The accused, Lindsey Thomasson, had been engaged to marry the child's father.
That engagement ended after Pressley Porting, 2, was beaten to death in February.
Thomasson, 24, has remained behind bars on a $2-million bond for the last six months.
A pathologist testified Monday that the little girl suffered a savage beating, which caused bleeding to her brain and around her eyes.
Dr. Michael Handler testified that had Pressley received immediate medical care, the child would have survived her injuries. But that did not happen.
"The child could have been knocked around and placed in bed," Dr. Handler said. "The swelling of the brain develops and bleeding into the scalp continues and then the child dies."
Dr. Handler also testified that the little girl had several of what appeared to be bite marks, on her legs, arm, and shoulder.
There were also pattern injuries over the child's right eye, which the doctor says are consistent with marks made by a ring that police seized from Thomasson.
There was a disturbance outside the courtroom between families involved in this case. The judge says she's going to focus on the evidence.
Testimony will continue on November 28.