This is an archived article and the information in the article may be outdated. Please look at the time stamp on the story to see when it was last updated.
OLATHE, Kan. — Christmas came early for Susan and Lyle Hutteger because they were able to find one of the hottest selling jersey in America.
"Aren't we lucky? We found a Mahomes. Wahoo!" Susan Hutteger said.
Tammy Hamilton, the store manager of Rally House in Olathe, said finding a Patrick Mahomes jersey in a store has been like finding a needle in a haystack.
"I would say it's probably been one of the most popular items we've had in a while. They are literally flying off the shelves. Customers are calling every day asking we have a new shipment in," Hamilton said.
She said trucks are coming in five days a week with new gear so her staff can restock the shelves with Mahomes gear. But fans are taking jerseys off the shelves faster than her crew can put them up.
"We're usually pretty busy with Chiefs anyway, especially if there is a home game. But he does take it up to the next level of fans being super excited and wanting that new product because he's been a favorite so far this year," Hamilton said.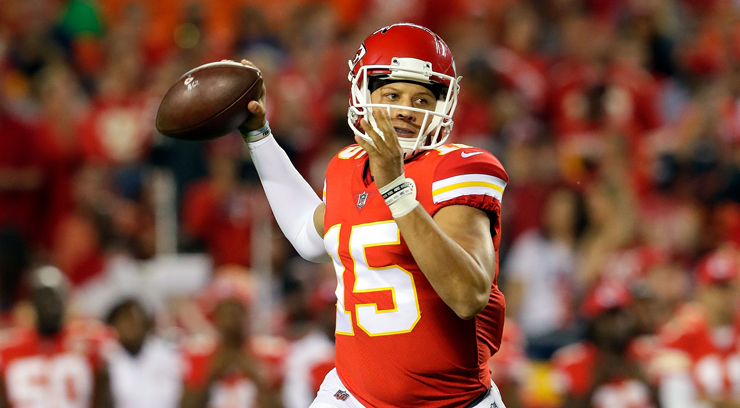 Retailers across the metro believe the run on Mahomes gear is a good problem to have.
Amelie Hall said fans are pouring into Charlie Hustle on the Plaza to get their hands on a signature Patrick Mahomes shirt. Hall said there has been only one other Chiefs player with an item as sought after as Mahomes.
"I would say the next closest would be our Tyreek shirt. We have people coming in every day still asking about that shirt. People will buy both of them at the same time to get the duo," she said.
Despite the struggle to find No. 15 gear, fans are enjoying the success the 2017 first-round pick is having on the field and are eager to support him.
"It's something I think Chiefs fans are craving for, some excitement, someone to hold onto," said Jesse Barron, a Rally House employee and Chiefs fan.
Brooks Pierce has been a Chiefs fan since the 1970s and was excited to go home with a Mahomes shirt knowing the Chiefs could go all the way this season.
"It's really fun. As a long time Chiefs fan, it's fun to see them finally on a Super Bowl path," Pierce said.
It's a path the Hutteger's said they are prepared to walk on while rocking their new Mahomes jersey that just so happen to have Lyle Hutteger's initials on the front.
"We're going to be wearing this to a party on Sunday for sure. He might wear it to bed. I don't know. That's a possibility, too. He wears his Cardinals jammies at night, too," the couple said.
Mahomes' jersey is the second highest selling item on NFLShop.com. He trails only Khalil Mack of the Chicago Bears in total jersey sales so far this season.