This is an archived article and the information in the article may be outdated. Please look at the time stamp on the story to see when it was last updated.
INDEPENDENCE, Mo. -- People who live near the scene of Monday's deadly car crash, which killed two teenagers, are upset over recent actions by the victims' friends.
The crash happened at about 4:20 a.m., Monday at Highway 291 Salisbury Road in Independence. Police say the teens hit a pole and the vehicle overturned at Salisbury Road. The vehicle then caught on fire. Michael Smith, 17, and Anthony Dunlap, 19, both died.  Two other teenage male passengers were taken to the hospital to be treated for their injuries. Family said Smith was going to be a new father in a couple of months.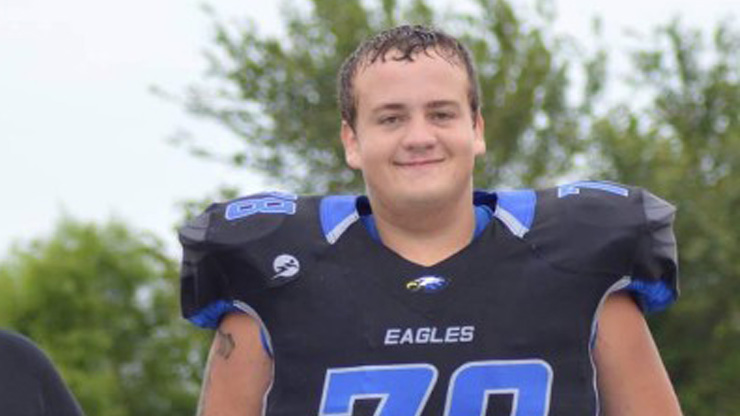 Those grieving for the teens have since vandalized Cler-Mont Elementary School and a park next door.
Homeowners and parents say graffiti first started popping up at the accident scene, 291 Highway and Salisbury Road, where rest-in-peace messages are spray painted on street poles and sidewalks. But it has since spread into the surrounding neighborhood.
Neighbors are concerned about a video, which was posted on the FOX 4 Facebook page. It shows teens firing gunshots into the air in tribute to their dead friends.
"I've heard that," said Marcene Dinwiddie, who lives nearby. "I've heard gunshots and stuff. I just thought, 'Well what the heck is that?' Because it sounded like a firecracker and stuff. You always see them up there."
Drivers claim the crash scene has become a traffic danger, with large numbers of teens gathering in the intersection on a daily basis, leaving behind alcoholic beverage bottles.
"The police need to step in and say, 'Hey, you guys cannot!'" Dinwiddie said. "Because that's a dangerous intersection anyway. For them to be hanging out there it's going to cause a car wreck."
At Cler-Mont Elementary, a couple of miles away, parents are upset that teens have defaced school property, making the grounds and a surrounding park look trashy with their messages. Parents tell FOX 4 these kids may be in pain over their loss, but that doesn't mean they can break the law and vandalize property.
"As a taxpayer and a mom and a person who's experienced my own traumatic grief in life I think, I can understand all sides of it, but it doesn't make it right," said Angelique Christy, a Cler-Mont parent. "I definitely think that they should at least apologize and maybe offer to help clean it up."
Police say they are investigating reports of gunshots fired at an Independence park, as well as the vandalism. Police also say officers have repeatedly responded to the crash scene this week to break up the gatherings of teens.
Independence police issued the following statement to FOX 4 regarding the recent events:
While we respect the public displays of mourning in reference to the fatal traffic crash on June 27th at MO-291 and Salisbury, we will not tolerate criminal activity including unlawful use of weapons, vandalism and other crimes associated with it in our city. We are aware of these incidents and they are currently under investigation.
FOX 4 first reported in an exclusive report that the car of teens was pulled over an hour before the crash by an Excelsior Springs police officer. However, Dunlap, the teens' designated driver, passed the field sobriety test and breathalizer. Police say he was cooperative and told the officer he would turn on the child locks so his friends would not hang out the car windows.
Family of one of the teens in the car say the teens had left a party in Excelsior Springs and were headed to Independence.
A GoFundMe account has been set up to help pay for Smith's funeral.
Anthony Dunlap's family has also created a GoFundMe Page, saying, "Anything helps."