This is an archived article and the information in the article may be outdated. Please look at the time stamp on the story to see when it was last updated.
MOORE, Okla. — Rescuers continued Tuesday morning to remove debris at the massive sight of the tornado destruction, hoping they would find someone alive underneath.
Late Tuesday, the National Weather Service confirmed the powerful tornado that struck Moore was an EF5 — the highest on the Enhanced Fujita scale meaning winds were more than 200 mph.
It was also revealed the massive twister formed 16 minutes after a "Tornado Warning" was issued for the area. It was 19 minutes later the twister would virtually wipe out Moore.
Picking up the pieces
FOX 4 sister station, KFOR's Lance West is in the neighborhood where the Plaza Towers Elementary School once stood.
He reported Tuesday morning that the mission at the school has transitioned from "rescue" to "recovery", which means crews do not expect to find anyone else alive at the school.
However, voices were heard coming from people trapped underneath debris at homes near the school.
Monday evening, rescue crews had to force hysterical parents to move back away from the rubble of the elementary school.
Crews needed quiet to hear any possible cries coming from the school.
KFOR reported that the captain who had to order the parents to move back and be quiet, had tears in his eyes as he insisted they move.
KFOR reporter Lance West said he spoke to a Plaza Towers Elementary School teacher named Rhonda. She had six kids with her in the bathroom at the school. She laid across them while the tornado took everything around them.  All the kids survived.
Some parents and rescue workers told KFOR that 75 students were believed to be in the school at the time of the tornado. Up to two dozen children, most of them third-graders, were told to cling to the walls.
"I had to hold onto the wall to keep myself safe because I didn't want to fly away in the tornado," said one student.
A parent told KFOR that about 30 children, mainly fourth, fifth, and sixth graders were evacuated from the school to a church before the tornado hit. They have reportedly all been accounted for.
Oklahoma Lt. Gov. Todd Lamb told CNN Tuesday morning the students who died at Plaza Towers Elementary School were found drowned in a basement, but that has since been revised.
"My understanding, this school … Plaza Towers … they had a basement. Quite frankly, don't mean to be graphic, but that's why some of the children drowned, because they were in the basement area," he said.
CNN reported Wednesday morning the students did not drowned in the basement, but rather in a classroom an did not drown.
Rescue and recovery happening 'everywhere'
Recovery and rescue work is happening all over the 12-mile long devastation.
In a spot that some say was once a 7/11 store, a few people who were rescued from it indicated that a mother and her six-month old baby were inside when the storm hit.
People began tossing the rubble, hoping to get to them.
"There were about five of us that headed over this way," described one survivor who had minor injuries herself. "We just started grabbing and throwing debris, just trying to get anybody out. And we successfully got people out. Just not alive," she said.
At the Oklahoma University Trauma Center, family members waited and hoped their loved ones might show up there.
Mark Troxell's older brother is missing.
"What I heard is he was opening the front door and the house blew away," said Troxell.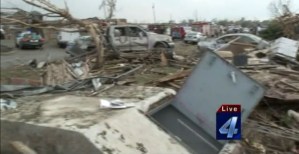 Reporter Lance West showed viewers of KFOR a storm shelter (see picture) where 15 people waited out the tornado. All survived.
Tuesday morning, emergency leaders said so far they have 24 confirmed fatalities. Nine of those are children.
*WATCH LIVE: http://fox4kc.com/on-air/live-stream-two/
*Twitter updates: http://twitter.com/fox4kc