This is an archived article and the information in the article may be outdated. Please look at the time stamp on the story to see when it was last updated.
OLATHE, Kan. — A person has died Tuesday in fiery, single-vehicle crash in Olathe, police say.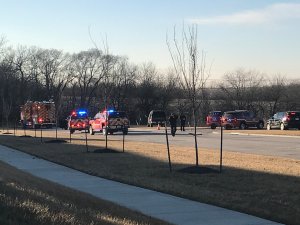 According to Olathe Police Sgt. Logan Bonney, the fatal crash happened near 133rd Street and South Greenwood Street.
When the vehicle was found, Bonney said it was on fire. When the flames were extinguished, officers found a person dead inside the car.
Bonney said the initial investigation indicates the car was traveling at a high rate of speed when it left the road, hit an object in a nearby treeline and caught fire.
The crash is still under investigation. Anyone with information is asked to call the Olathe Police Department at 913-971-6950 or the TIPS Hotline at 816-474-8477.