This is an archived article and the information in the article may be outdated. Please look at the time stamp on the story to see when it was last updated.
BOSTON, Mass. — A picture released by the FBI shows 19-year-old Boston bombing suspect Dzhokhar Tsarnaev standing behind 8-year-old Martin Richard, who was killed in the blast. In the picture, a backpack, believed to hold the explosives, can also be seen on the ground, feet away from Richard. Richard's sister and mother were also injured when the bomb exploded. Richard's mother reportedly lost her leg in the attack.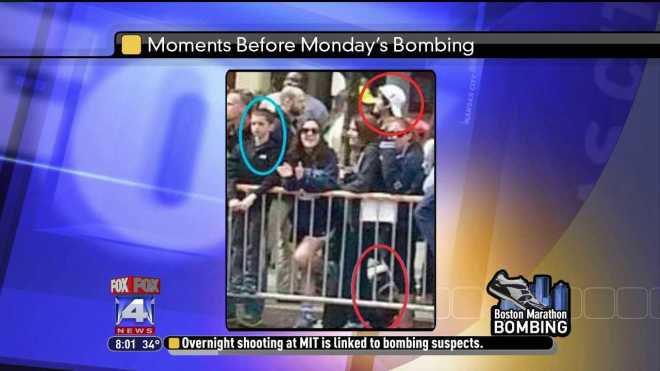 The FBI named Dzhokhar Tsarnaev and his 26-year-old brother, Tamerlan Tsarnaev, as suspects in the bombing. Tamerlan was shot and killed by Boston police in the overnight hours of Friday, April 19. Boston police said the brothers shot and killed a police officer, stole a vehicle and threw explosives at law enforcement officers pursuing them during the overnight hours.
Police and other law enforcement agencies continued a massive manhunt for the younger Tsarnaev brother who managed to elude officers in the chase.
Related:
Suspects identified as brothers, massive manhunt continues
What we know about Boston bombing suspect Dzhokhar Tsarnaev