This is an archived article and the information in the article may be outdated. Please look at the time stamp on the story to see when it was last updated.
A total cosmic convergence that led to a chance meeting between two people has become the internet's latest "missed connection" story.
A man in New Zealand posted a photo online after he happened to meet a girl with nearly the same tattoo: a complete planetary alignment image.
"She said to me 'Hey, I like your tattoo' so naturally, I looked up and started to reply 'oh hey! Than-NO WAY' on her outstretched arm was a tattoo very similar to my own," he wrote in the photo's caption on Imgur.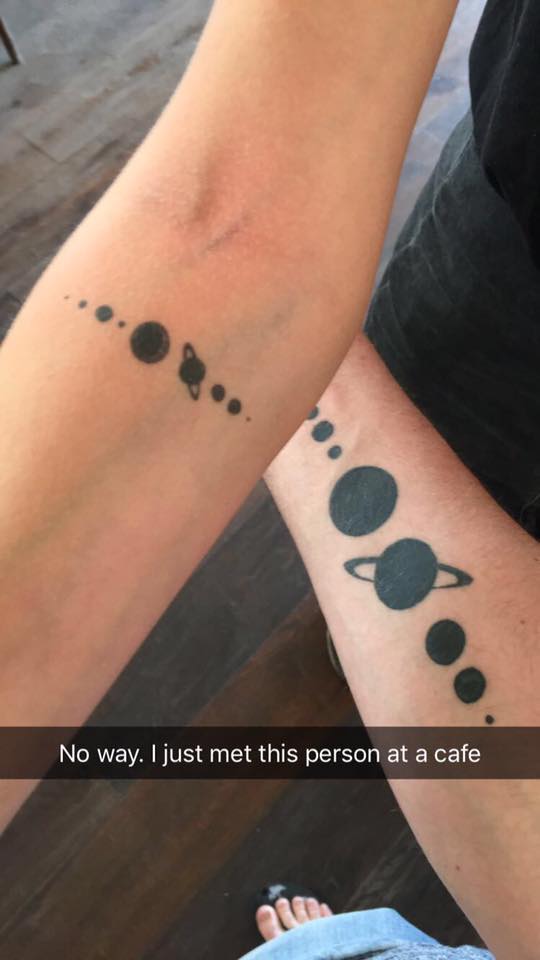 "We both sat there grinning like idiots so I asked to take a picture to show friends and family. Even the barista was like 'No way! That's intense.'"
The meeting was apparently so intense, that the man forgot to ask the woman's name.
Some space-sticklers might point out that both tattoos feature Pluto, which is no longer included in the list of planets in our solar system, as it is a dwarf planet.
Now, folks online are hoping for a second meeting between the two seemingly star-crossed lovers.
After the photo went supernova online, the man posted an update, saying he went back to the cafe and asked around, but to no avail.
"[Cafe workers] didn't know the girl so she can't be a regular. I asked if the barista that served us was in today and they said no but she would be back tomorrow and Sunday. Here's hoping that the barista is friends or something with mystery girl!"
So perhaps it wasn't meant to be. Until then, the man will have to just keep wishing on shooting stars.