This is an archived article and the information in the article may be outdated. Please look at the time stamp on the story to see when it was last updated.
PHOENIX, Ariz. — (KNXV) — A Phoenix police officer has died in the line of duty after a shooting in west Phoenix.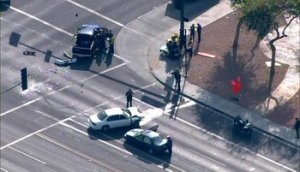 Phoenix police Chief Daniel Garcia made the announcement outside St. Joseph's Hospital where the two detectives were taken after the shooting Monday afternoon.
Garcia said the officer who died was a 21-year veteran of the department. He said this is "a day of tragedy."
The second officer injured in the shooting has nine years in the department. He is said to be in surgery and fighting for his life at this point.
A third detective was involved in the incident but was not injured.
According to Phoenix police Sgt. Martos, 43rd Avenue and Bethany Home Road has been shut down and is expected to be closed for several hours.
Martos said a suspect wanted on a felony warrant was killed in the confrontation. No other suspects are being sought in the shooting.
Witnesses in the area told ABC15 they heard more than a dozen shots fired in the altercation.
"After the gunshots, everyone pretty much scattered," Nick Cusson said.
Sources say the two undercover detectives, part of a fugitive apprehension task force, had tracked the homicide suspect to the intersection from a nearby neighborhood.
Air15 video showed a pickup truck and two sedans involved in an apparent collision in the roadway. It is unclear at this time what caused the crash.
Footage showed paramedics working on a patient and loading that person into an ambulance.
Officer James Holmes said an 83-year-old woman and man in his 50s suffered minor injuries in the crash and were transported to a nearby hospital as a precaution.
RCB Medical Arts School, located just north of Bethany Home on 43rd Avenue, was evacuated as police investigated.
Glendale police tweeted that 43rd Avenue has been shut down between Camelback and Maryland, while Bethany Home is closed from 47th to 39th avenues. The closures are expected to be in effect for most of the night and potentially through the morning hours.
By Katie Fisher