This is an archived article and the information in the article may be outdated. Please look at the time stamp on the story to see when it was last updated.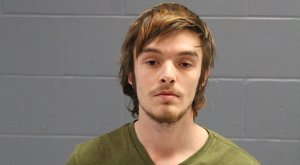 HARRISONVILLE, Mo. — Cass County prosecutors charged a 20-year-old man in a burglary at a Creighton church. Investigators had little trouble determining a suspect. He left his wallet at the scene of the crime.
James Flint Cornett is charged with 2nd degree burglary in the Saturday break-in at Creighton United Methodist Church at 208 D. Street.
Court documents say Cornett broke a basement window and entered the church. Investigators at the scene said when they went into the basement, they saw a wallet lying in the broken glass. Inside was Cornett's driver's license.
Court records say the items stolen were a 55-inch flat screen TV valued at $1,000 and a Canon printer/copier valued at $500, along with about $100 worth of groceries.
Police tracked down Cornett's brother, who directed them to the suspect's residence. When officers found Cornett, they told him they were investigating the burglary at the church. Cornett immediately responded, "my girlfriend ran out on me and took my wallet."
Police then arrested him. Cornett told police he was not guilty, but would pay for any damage to the church. When an officer asked why he would pay if he was innocent, he said he was a Christian and just felt bad about the situation, according to court documents.