This is an archived article and the information in the article may be outdated. Please look at the time stamp on the story to see when it was last updated.
FOX 4 is continuing to cover this story. For the most recent updates, click here.
LIBERTY, Mo. — Liberty residents are growing concerned and sharing a picture on social media of a 30-year-old man who has not been seen since he went on a run Monday night.
Chad Rogers, 30, a marathon runner, left his home in Liberty at about 8:30 Monday night to go running and has not been seen since.
Witnesses have told police he was possibly spotted running east of the interstate.
SEE ALSO: If you're interested in joining the search, or offer help, visit the "Bring Chad Home" Facebook group
Around 6 p.m. Tuesday, volunteer search crews were told to hold off after a bloodhound reportedly picked up Rogers' scent and was able to track the smell for about two miles.
Around 7:30 p.m., crews were given the "go ahead" to begin looking for the man. Twenty groups of ten people are being spread out around Liberty.
Where crews are searching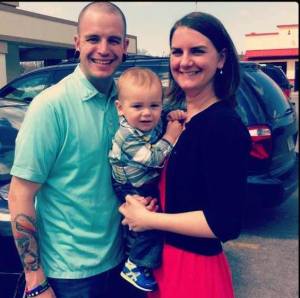 Volunteers are tackling two different areas: beginning at the intersection of Ruth Ewing and Birmingham Road and working towards highways 291 and 210 and Ruth Ewing and Southview, heading down Southview towards 210 — which is where bloodhounds lost Rogers' scent.
Searchers, most complete strangers, were pushing through very dense vegetation all while calling out Chad's name.
Around 9 p.m., volunteers called off the search because of nightfall. However, no signs of the man were found in areas they were searching Tuesday evening.
After several hours missing, family began to worry
"It became a couple hours later and we start wondering what to think. We start saying, OK, it's time," said Greg Rogers, Chad's father.
Rogers is married and has a 13-month-old son and was in the process of moving back to Liberty from Jefferson City, his family told FOX 4.
Rogers often ran between 3 to 15 miles on his various routes. He was last seen wearing a bright orange visor with Newton Running printed on it, black running shorts, and a red running shoes.
"At about 11 o'clock last night is when I first started worrying. Even at that point, it was just, 'where did he go?'" his dad said.
He was not wearing a shirt. He did not have a phone or ID on him.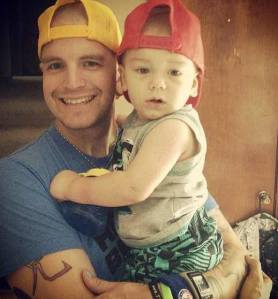 "We're in a state of shock," said Jo Ann Immele, Chad's mother-in-law. "This is not like Chad to just run off. He's very devoted to my daughter and extremely devoted to his baby."
Description of Rogers
Rogers is 5'11", 175 lbs, bald, with tattoos on his upper chest, on both arms and forearms and on both thighs and on his right calf.
If you know anything about Rogers, please call Liberty Police at 816-439-4701.