This is an archived article and the information in the article may be outdated. Please look at the time stamp on the story to see when it was last updated.
OVERLAND PARK, Kan. — Authorities say a fugitive sought for assaulting a woman in South Carolina more than a year ago may be in the Kansas City area.
The Greater Kansas City Crime Stoppers said on Saturday that 51-year-old Robert Alan Burriss is being sought on suspicion of kidnapping and criminal domestic violence in Lexington County, South Carolina.
He's accused of assaulting a woman and holding her against her will in March 2014.
Authorities say he fled South Carolina and hadn't been seen since then until Friday, when he was spotted at the Village Apartments in Overland Park. Residents there told FOX 4 that Burriss had been working there as a maintainence man for nearly a year under the alias "Mike Ditch."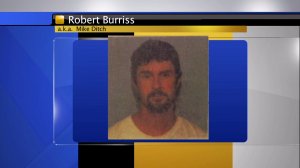 "I'm floored I'm still floored. I just don't believe it," said one resident, who asked that FOX 4 conceal their identity for fears over their safety. "It's just hard to believe. We talked every single day. We would sit around and watch the races. He would come by and watch Price is Right in the mornings."
"He was in our apartment," Village Apartments tenant Abygil Ramirez told FOX 4. "It bothers me a lot that there's maybe not enough background check. Not enough something because it shouldn't have happened."
The anonymous tenant told FOX 4 that even the police were friendly with the man they knew as "Mike Ditch," saying Burriss would tip police off to crimes in the area. He says Burriss even helped officers catch tee s who were burglarizing the laundry mat in the complex.
"It blows me away," he says. "It's hard to believe he's somebody different."
People who live here say it's unacceptable how easily Burriss slipped through the cracks.
"I just feel like people need to do more. The leasing office. A lot more. To protect people who live here. I shouldn't have to be scared to walk up my stairs," Ramirez said.
FOX 4 did reach out to the landlord for comment, but have not heard back.
Law enforcement officials say Burriss is considered armed and dangerous.
The Associated Press contributed to this report.