This is an archived article and the information in the article may be outdated. Please look at the time stamp on the story to see when it was last updated.
KANSAS CITY, Kan. — For seven months, police have been looking for a man they wanted to question about the October murder of another, and on Thursday night they finally made the arrests they sought.
Sherman Judie IV, 27, has been charged in Wyandotte County with second degree murder.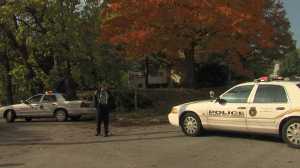 Police say in October, they found Felipe Fernandez shot early in the morning near 22nd and Garfield. Paramedics rushed him to a hospital, but he died of the injuries.
In October, witnesses thought they saw a suspect run into a nearby home. Police surrounded the home, but never found anyone inside.
At that time, they released the names of two men they thought might be linked to the victim and the crime.
Judie was picked up in Jackson County when authorities discovered he had a warrant for the murder.
The second man, Devin Russell, was arrested just days after the murder and was already sentenced to Aggravated Battery, Bodily Harm with a Deadly Weapon.