This is an archived article and the information in the article may be outdated. Please look at the time stamp on the story to see when it was last updated.
KANSAS CITY, Mo. — Police were engaged in a standoff near 49th Street and Agnes with a suspect in a homicide on Saturday.
Officers were called to a residence around 2 p.m. on a report of a stabbing. Upon arrival, police found 35-year-old Ali Griffin inside an apartment with apparent stab wounds. Griffin died shortly after police arrived.
Officers learned the suspect had fled the scene to a nearby apartment. Police attempted to contact the suspect, but he initially refused to exit the apartment.
Officer Darin Snapp with KCPD said it appears the disturbance began out in the street when two men got into a confrontation regarding money.
"Witnesses stated that the suspect ran into another apartment. They're actually neighbors — the victim and the suspect. We went to the suspect's apartment at first. He wouldn't answer the door at first; we knew he was inside because we could hear him inside," Snapp explained.
Snapp said negotiators arrived and the suspect surrendered to police peacefully about an hour later.
Snapp said the responding officers were "very familiar" with the suspect.
"We're here often in regards to different types of violence he's involved in, so we knew we were dealing with a dangerous person, and thankfully he came out and surrendered peacefully," Snapp said.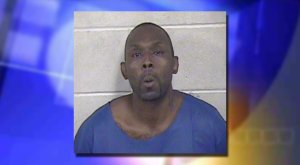 Police identified the suspect on Tuesday as 42-year-old Donnell Allen. Allen is charged with 2nd degree murder, armed criminal action, and unlawful possession of a firearm.
A witness told police that Allen was waiting for an opportunity to kill the victim.The witness said after the fatal stabbing, Allen taunted the victim's family before police arrived with the knife in one hand and a shotgun in the other.
Allen told police that Griffin killed himself by putting himself in conflict with him.
Prosecutors requested a bond of $250,000.