This is an archived article and the information in the article may be outdated. Please look at the time stamp on the story to see when it was last updated.
KANSAS CITY, Mo. – Police are investigating a tragic crash that killed a woman and critically injured six of the children inside her car.
Shortly after 9 p.m., on Tuesday, officers were called to a shooting and injury accident near 9th and Hardesty in KCMO. Police believe two vehicles were exchanging gunfire in the area when a third vehicle, driven by 30-year-old Mariana Hernandez –Gonzales, was hit.
Police say one of the two cars involved in the rolling gun battle ran a red light at 9th and Hardesty and crashed into Hernandez –Gonzales as she was driving her SUV through the green light at that intersection. Hernandez –Gonzales was not wearing a seatbelt and was thrown through the windshield.  The children were transported to area hospitals in critical condition.
A witness recorded cellphone video of paramedics transporting some of the injured to the hospital, including six children who were in the GMC Yukon.
The witness claims the shooting started at a gas station near 12th Street and Hardesty.
He did not want his face on camera because he believes the shooting is tied to gang activity in the area.
"I heard some gunshots, like 5 of them," said D.J., the witness. "Then it came to like 17 to be honest. Then they just came under the bridge. I heard a lot of police coming in, the kids the ambulance coming in. It was like, six ambulances."
A man who was in the car that hit the SUV suffered a gunshot wound and is reported in critical condition. The woman that was in the vehicle is expected to survive.
FOX 4 News talked with a 19-year-old who claims to be the son of the man who is in critical condition. He says police have taken his brother into custody as part of the investigation and says his family is part of a gang that's in a dispute with another gang.
Detectives are still trying to track down everyone inside the two vehicles involved the shooting at the time it happened.
Police pursued suspects in the second car into Kansas City, Kansas and then followed them back into Kansas City, Missouri. That car had several people inside, but when police were able to stop it with stop sticks near 18th and Jackson, only the driver was in the car.
The following worksheet was found at the scene of the crash. While it's not clear if it came from one of the children, there was much debris still at the scene.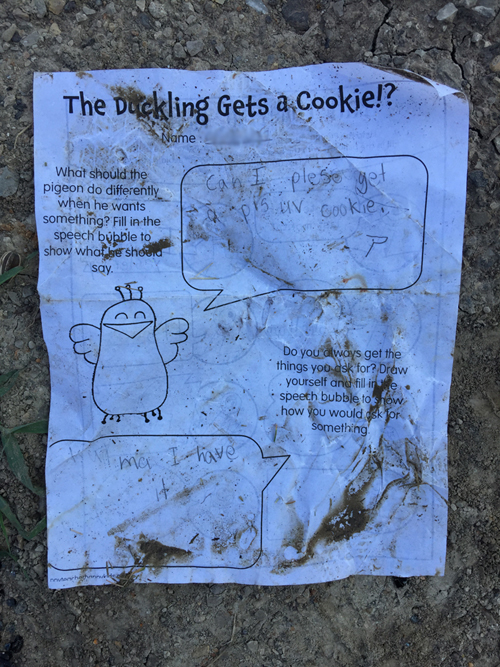 Anyone with information in this case is asked to call the TIPS Hotline at (816) 474-TIPS (8477).

Download the fox4kc app to stay informed FOX 4 Android app | FOX 4 iPhone app