This is an archived article and the information in the article may be outdated. Please look at the time stamp on the story to see when it was last updated.
KANSAS CITY, Mo. -- Police are investigating two deaths at a northeast Kansas City gas station, and are asking for the public's help identifying two persons of interest possibly connected to this case.
On Saturday evening police released the photos of two men and a vehicle who were captured on video at the BP gas station located at 4815 Independence Avenue, around the time a double homicide took place there.
Just after midnight on Saturday, officers were called to the BP gas station on reports of shots fired, near the intersection of Independence Avenue and Chelsea. When police arrived on the scene, they found two men suffering from gunshot wounds. Kansas City Fire Department personnel then responded and declared both men dead at the scene.
FOX 4 requested surveillance video from the station, but out of respect for the victims' families they are not releasing it at this time. The gas station was not able to tell WDAF where on the property the shooting incidents took place.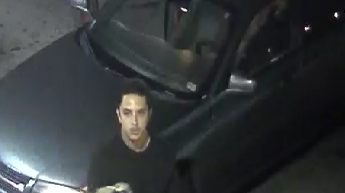 Police Chief Forte tweeted out pictures of the scene early Saturday, but so far are not releasing any information on the victims involved in this case.
.@kcpolice CSI & detectives continue processing double homicide crime scene near Indep Ave & Chelsea. Occurred 12am pic.twitter.com/VEeVDcetB1

— chiefforte (@ChiefForte) October 10, 2015
If you have seen either of the men or the vehicle shown in the photographs above, you are asked to call police.
Download the fox4kc app to stay informed FOX 4 Android app | FOX 4 iPhone app