This is an archived article and the information in the article may be outdated. Please look at the time stamp on the story to see when it was last updated.
KANSAS CITY, Kan. — Authorities are investigating after a homicide at a Kansas City, Kansas, gas station on Sunday.
According to police, the victim—identified only as a black male in his 20's—was found dead from an apparent gunshot wound in a car next to a gas pump at the Cenex station at 60th and Parallel around 2:45 p.m. on Sunday.
Authorities say that a police helicopter is currently searching the area for two suspects seen running away from the scene. Police are also asking for the public's help in identifying a vehicle involved in the incident. It's described as a gold Chevy SUV with heavy front-end and passenger side damage as well as a missing passenger side headlight.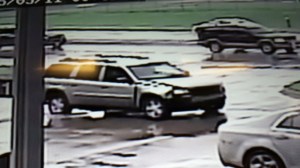 Anyone with information should call the TIPS Hotline at (816) 474-TIPS.