This is an archived article and the information in the article may be outdated. Please look at the time stamp on the story to see when it was last updated.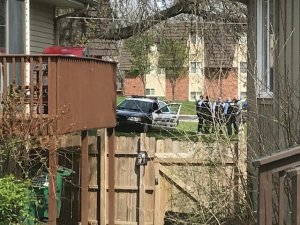 LEE'S SUMMIT, Mo. — Two suspects are in custody Thursday afternoon after a standoff with one suspect at a Lee's Summit apartment complex.
Sgt. Chris Depue said officers attempted to stop a vehicle on a traffic violation around 1:45 p.m. Thursday nearly Interstate 70 and Woods Chapel Road. When the vehicle fled the area, a pursuit began.
Depue said another officer attempted to deploy tire deflation devices, and the suspects attempted to hit the officer as he was doing so.
The vehicle eventually drove through a grassy area near Sage Crossing Apartments on Howard Street before hitting a tree. The two suspects got out of the vehicle and ran into an apartment.
One suspect was initially taken into custody, but a standoff with the second began when the suspect refused to exit the apartment.
Several minutes later, police said the standoff ended when the second suspect surrendered and was taken into custody. No one was injured.