This is an archived article and the information in the article may be outdated. Please look at the time stamp on the story to see when it was last updated.
KANSAS CITY, Mo. — FOX4 has just learned police have located a car involved in three Northland shootings Friday night, one of which left a KC man dead, and have arrested a suspect.
On Monday, a KCPD spokesperson told FOX4: "We are trying to piece together if these are connected. We do not have tangible evidence at this time to connect these cases."
That's no longer the case. FOX4 has learned police found the car they've been looking for as the suspect vehicle in one homicide and two non-deadly shootings, and KCPD confirmed they've made an arrest in the shootings.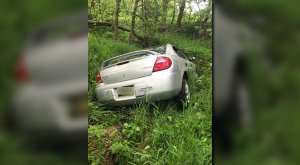 A source said officers found the car on Highway 150 in south Kansas City in a creek behind a home. Officers found a 9-millimeter handgun, a Bible, a sippy-cup and beer inside the car, as well as religious wall posters.
The owner of the home where the car was found said police told her a suspect was arrested around 1:30 a.m. Tuesday.
KCPD spokesperson Kari Thompson confirmed a suspect has been arrested in the two non-deadly shootings. That person is also a subject of interest in the homicide.
Formal charges have not been filed yet; therefore, police are not releasing the person's name at this time.
Police said the homicide happened around 8 p.m. Friday in the area of N.W. Barry Road and North Marston Avenue. Russell Fisk, a well-known Kansas City tattoo artist, was shot and killed.
Witnesses told FOX4 Fisk was driving a "high-end" sports car and knocked down a light pole before crashing in a field. Police said he died from a gunshot wound.
Around 9 p.m. Friday about 5 miles away, there was a shooting near 111th and North Campbell streets. Police said the victim suffered life-threatening injuries.
Less than 30 minutes after that and less than 2 miles away, there was another shooting near North Main Street and N.W. 102nd Terrace. Police said a man on a motorcycle was shot and suffered non-life-threatening injuries.
Police are asking anyone with information about any of the shootings to call the TIPS Hotline at 816-474-8477 or submit a tip online here. All calls to the TIPS Hotline are anonymous.