This is an archived article and the information in the article may be outdated. Please look at the time stamp on the story to see when it was last updated.
KANSAS CITY, Kan. -- One person is dead after a shooting at I-70 and 78th Street at about 9:15 a.m., on Friday.
Officers say the shots were fired by someone in a silver car, which then fled the scene. The silver car and a maroon Ford Fusion were stopped at a stoplight in the southbound lanes of 78th Street at I-70. Police say someone in the silver car started firing shots at the maroon Ford Fusion. The driver of the maroon Ford Fusion then crossed the median and hit a blue Ford Escape head-on. The driver of the maroon Ford Fusion car died from his gunshot wounds. His passenger left the scene.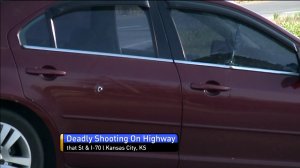 Now police want to find that passenger and the driver of the silver car.
"Somebody picked the second victim up by car. We just now found that out so to my knowledge at this time we do not have any type of suspect description other than a silver vehicle," said Tom Tomasic, Kansas City, Kan. police officer.
If you have any information, call the anonymous TIPS Hotline at 816-474-TIPS (8477).