This is an archived article and the information in the article may be outdated. Please look at the time stamp on the story to see when it was last updated.
INDEPENDENCE, Mo. — Authorities are asking for the public's help in locating two suspects wanted in connection to the armed robbery of an Independence drug store early Saturday morning.
According to Independence Police, at around 5:30 A.M. on Saturday a female suspect accosted a pharmacy employee at the Walgreens at 3915 S. Noland Road, stating that she had a gun. The suspect then forced the employee to obtain an undisclosed amount of prescription drugs before leaving the store on foot in an unknown direction.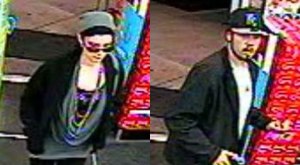 Authorities say that they believe the suspect had a male accomplice who assisted her in the robbery.
The female suspect is described as white female wearing all dark clothing with sunglasses. The male suspect also appears to be white, but no further description is available.
Anyone with information about the robbery or the suspects is asked to call the TIPS Hotline at (816) 474-TIPS, or the Independence Police Department at (816) 325-7330.