This is an archived article and the information in the article may be outdated. Please look at the time stamp on the story to see when it was last updated.
KANSAS CITY, Mo. —  Kansas City, Mo., police confirmed Tuesday that they've determined some of the 13 highway shootings reported in the past month are connected.
They did not identify how many of the 13 were linked or how the connection was made.
One of the shootings happened in Leawood, Kan., and Leawood authorities told FOX 4 on Tuesday that they turned over their ballistics finding to Kansas City, Mo. investigators. Leawood said all questions about the investigation would have to be answered by Kansas City police.
"What they determined over the weekend was they've located 13 different incidents where vehicles have been struck by bullets on the highways," Kansas City Police Captain Tye Grant said on Monday..
Police said they believe the shots are coming from inside a car or cars. When asked by reporters, police were quick to state they do not believe a sniper is targeting drivers.
"It appears these vehicles are being shot at from probably another vehicle that's on the road," Grant said.
Ten of the 13 shootings happened in Kansas City, Mo. Seven of these happened in the evening hours in the Grandview Triangle area. The other three happened in Blue Springs, Lee's Summit and Leawood, according to police.
The details of the shootings are similar. The gunman drives next to a random car on the highway and opens fire with a handgun before veering off a highway exit.
Leawood police say in their shooting, the victim noticed the shooter driving a metallic green sedan wearing a ski mask and sunglasses.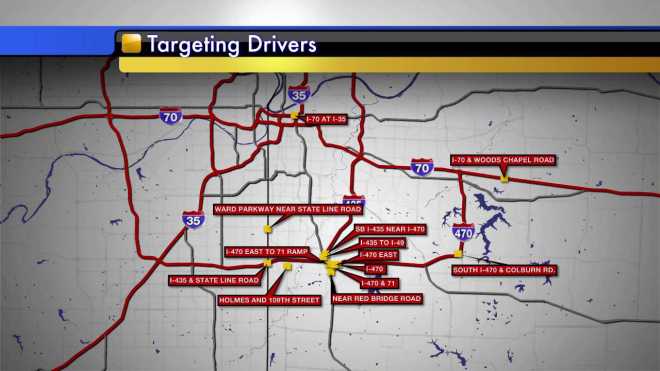 "Three of those situations a person was also hit," Grant said. In the other shootings, only vehicles sustained damage.
On March 18, Tom McFarlin was driving down I-470 when he heard something hit his car. He pulled over and saw the bullet hole in his white Ford Fusion.
He's now troubled that what happened to him was not bad luck.
"I could understand the random, you know, dummy who….. who knows was maybe drinking or on drugs or something and it just happened one time versus maybe something that was more planned," said McFarlin.
Thankfully McFarlin was not hit by the bullet that damaged his car but ten minutes before his Fusion was shot on I-470, another man was hit in a highway shooting at I-70 and Woods Chapel Rd.
Related: Driver of car recounts shooting, considers himself lucky
Police planned to release more information as they seek the public's help to find the person or people responsible, however they do not have a vehicle or suspect description at this time.
"Everything helps," Grant said. "Right now we only have some small stuff to go on, but we'll be going back. That's what we're doing right now, going back and looking at all 13, 10 of them in Kansas City."
Police are asking for your help. If you have any information please call the TIPS Hotline at 816-474-TIPS (8477).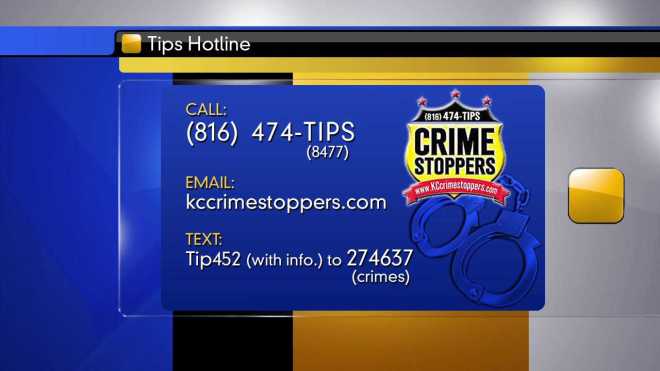 Watch our earlier report: