This is an archived article and the information in the article may be outdated. Please look at the time stamp on the story to see when it was last updated.
HARRISONVILLE, Mo. — The investigation into human remains found in rural Cass County is now considered a homicide investigation, officials say.
On Friday night, mushroom hunters found human remains in the area north of Harrisonville, between 235th and 239th streets near Mopac Road. The Cass County Sheriff's Office noted that the area is near a popular dirt road between Harrisonville and Pleasant Hill and is near a railroad track.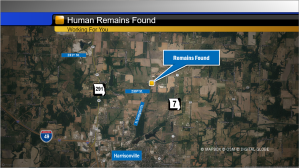 The sheriff's office said Monday that a preliminary autopsy indicates the victim is a female, but officials have not yet identified the victim. They are now considering this as a homicide.
In April 2017, mushroom hunters discovered the remains of missing women Jessica Runions and Kara Kopetsky. Those remains were found in a rural location approximately 10 miles to the west of the location of the latest discovery.
The family of a missing woman from Liberty said the remains are not Desirea Ferris. So far, there's been no established link between the latest discovery and any current missing persons cases.
Anyone with information is asked to call the Cass County Sheriff's Office at 816-380-5200.
Previous coverage: