This is an archived article and the information in the article may be outdated. Please look at the time stamp on the story to see when it was last updated.
ST. CHARLES, Mo. — Authorities in the St. Louis metro area are asking for the public's help in locating a weapon linked to a string of murders along Interstate 70 and Interstate 35 between Indianapolis and Wichita in 1992.
KTVI in St. Louis reported that a $25,000 reward has been offered for information leading to the arrest or conviction of the killer, who is believed to have committed at least 6 murders 27 years ago.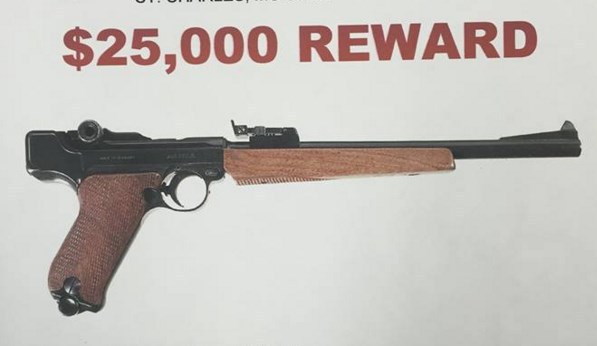 The St. Charles Police Department posted the following message to their Facebook page:
Attention Gun Enthusiasts, Take a close look at this flyer of a very unique gun. The firearm is an Erma Werke ET-22. This gun is believed to have been used to murder six shop clerks in the spring of 1992. Please share this flyer with any and all gun owners, collectors, and dealers. The killings occurred in shops located along Interstate 70 and Interstate 35 between Indianapolis and Wichita Kansas. This is also believed to be the weapon that killed Nancy Kitzmiller on May 4th,1992 in St. Charles at the Boot Village. The St. Charles Police Department needs your help to solve this crime!
A police flyer describes the weapon as a ".22 long rifle caliber semi-auto pistol with a luger action and an 11.75 inch barrel," noting that it is "unique looking due to the barrel length and the wood forestock under the barrel. Some people refer to it as a carbine."
The flyer states:
The killer may have stolen of acquired the weapon from the owner. The owner (or the killer) may have used corundum or red rouge for fire lapping of the weapon, or may have used corundum and rouge in grinding, polishing or machine shop work.

If you know of someone who had this type of weapon in the spring of 1992, please call St. Charles Police at 1-800-800-3510.